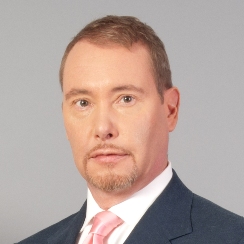 Jeffrey Gundlach runs DoubleLine Capital and is a well known investor. Gundlach is predicting a "global growth scare" which is likely to develop sometimes from now and till the end of the summer season. The reason behind the fear has been attributed to "a presidential nomination of Donald Trump", thinks Gundlach.
During a telephonic interview, Gundlach reported:
"That is where I see the vulnerabilities. As he (Trump) gets the nomination, the markets and investors are going to worry about it more. You will see a downgrading of global growth based on geopolitical risks. You must factor this into your risk-management."
According to Gundlach, the hurt caused on the United States' economy which also affected job ratio has been a product of currency devaluations, whereby he urges the U.S to take a "tougher" stance on trade matters. However, Trump had earlier said:
"We just sit back and do nothing. That's getting to be very dangerous as far as I'm concerned."
As per Trump assigning tax on products that are made out of the Sates and sold inside, especially indicating China, would be a "more effective economic move than devaluations".
Gundlach looks after DoubleLine Capital which is based at Los Angeles and is valued at "$93 billion". As per him, there is a great possibility of a nomination in favour of Trump which is not at all in its premature prediction stage as for him:
"You have to entertain the hypothetical."
However, there were no answers from the spokesperson from Trump's side, while Jennifer Ablan writes:
"For its part, stock markets, which moved into positive territory after the U.S. Federal Reserve's dovish move last week, will continue to track oil prices, Gundlach said, who was prescient in his call for $40 per barrel".
Furthermore, Gundlach adds:
"I think oil will have a hard time moving up to $45... (The risk-reward proposition is) so bad right now because you had this easy rally (in risk markets)."
"No way I would buy junk bonds at this level."
Fed officials were also criticised by Gundlach for flipping over their stance "on interest rates":
"They've been flip-flopping like crazy over the past few months".
Within three days from the interest rates increment under the Fed, the President of Fed Atlanta, Dennis Lockhart says that ""global economic and financial developments continue to pose risks". Moreover, he also informed that U.S may also be a subject to higher interest rates from the month of April 2016.
For Gundlach "it's become obvious Fed officials are seeking guidance from markets", whereby he stated:
"If it is going to be about the markets, they should just come out and say, 'If the S&P hits 2,100 we will tighten - and if it goes to 1,900 we will ease".
References:
http://www.reuters.com/