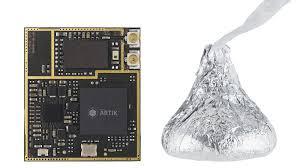 There is absolutely no doubt regarding the fact that Samsung is among the leading smartphone makers in the world, yet somehow the growth of its smartphone business has been slowing down and at the same time the margins have been shrinking as well.

In order to counter this scenario Samsung is focusing ever more heavily on its chip business which seems to remain the company's weak link. The business aspect is however increasingly profitable for the company.

Samsung's latest initiative is to be able to get its chips into as many as devices as possible. In other words it plans to reach out to the internet oriented industry in a better way by eliminating all forms of boundaries in the tech world and establishing itself on all possible devices.

At a conference in San Francisco on Tuesday, the President of Samsung and its chief strategy officer- Young Sohn made the announcement of a new technology platform called Artik. This platform has been speculated to be the best fit for next generation of wearables, smart TV and drones as well.

Artik basically consists of a processor chip that comes in packed with memory, sensors and a number of various wireless chips.

The Artik module comes in three variant sizes in order to fit different types of devices and is expected to cost somewhere between $10 to $100. These chips have been specially designed to help the device manufacturers to speed up the development of new Internet of Things gadgets.

The smallest module from Samsung is the Artik 1, which is round about the size of a ladybug. It contains a 250MGz dual core processor, 4MB of flash memory, Bluetooth radio and along with a nine axis sensor. One can say that it has been primarily designed for tiny low power devices like fitness trackers.

The larger version called Artik 5 has been equipped with a 1Ghz dual core processor a 514 DRAM, 4GB flash memory and a video processor along with WiFi, Bluetooth and Zigbee; a new technology that allows small devices to communicate.

The integrated video decoding and encoding technology forms an ideal asset for something like an internet connected camera.

The highest end model, Artik is built around Samsung's Exynos chip which is the same processor powering the new Galaxy S6 smartphone. It is said to have eight core processors, 2GB RAM, 16GB flash memory and a high definition video processor. It is equipped with the same radio chips as the Artik 5.

The addition of a modem allows it to be used to make phone calls but Samsung seems to be advertising its product as an application to be used as home servers and industrial equipment.

The new chips are specially designed to power hardware by other manufacturers inclusive of some own devises from Samsung as well. The company spoke of its plans to put the Artik chip into its refrigerators, TV and oven as well as a part of its plan which was outlined at the 2015 Consumer Electronics show.

Yoon Lee, vice president of smart home and digital appliances at Samsung, said that his division still hasn't decided exactly how many of Samsung's devices will use Artik. And even though Samsung chip business is under the same company as its appliance business, the division will evaluate other vendors' chips.

"We will adopt Artik if it's good for consumers and good for business," Lee said.

Yoon Lee, the vice president of Smart Home and Digital Appliances at Samsung said that his division still is yet to decide on exactly how many of Samsung's devices will use Artik. Even though Samsung chip business is under the same company as its appliance business, the division is set to evaluate other vendor's chips as well.

Mr. Lee stated

"We will adopt Artik if it's good for consumers and good for business."

With the advent of these new chips, Samsung's competition with its rivals like Intel and Qualcomm is certainly to increase. Intel's Edison is a development system for connected gadgets like wearables.

At the same time Qualcomm is expected to make its efforts on this sector with the probabilities of an announcement taking place this Thursday at an event in San Francisco.

According to some analysts it is speculated that Samsung is likely to face challenges in persuading third party manufacturers, many of whom are also a part of the company's competitionto adopt its chips. (Samsung makes a million products a day and ships 660 million devices a year across a wide swath of consumer electronics market.)

Mr. Jim McGregor of Tirias Research quoted,

"When you've got other parts of your company using the silicon, it's hard to get anybody else to buy it."


He further on added,

"Why would a company use a Samsung chip if they're competing with Samsung?"

In an effort to desperately overcome these daunting obstacles, Samsung has been trumpeting the openness of its technology. On Tuesday the company also lunched SmartThings, which is the cloud-based smart home system startup that Samsung has acquired for a reported $200 million last August.

The Artik chips are said to connect to Samsung's new cloud service and at the same time allow outside cloud applications to connect with devices powered by Artik chips.

The CEO and co-founder of SmartThings, Mr Alex Hawkinson said that,

"This is a commitment to openness."


In a discussion following the Samsung's presentation at the conference he also added,

"There's lots of efforts out there that claim they're open, but really they're walled gardens. We're trying to combat that."







References:
http://www.forbes.com/sites/aarontilley/2015/05/13/samsung-chips-artik