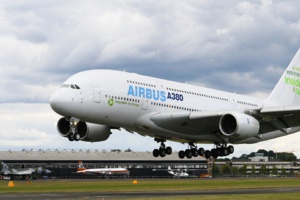 pixabay.com
By 2020, the holdings are planning to showcase electric and hybrid energy sources for aviation. The development will team up about 200 engineers, whom Airbus and Siemens intend to involve in the project.

General Director of Airbus, Tom Enders said that by 2030, passenger aircraft with a capacity of less than 100 seats will be able to work on a hybrid propulsion. "Electric and hybrid (semi-electric) aircraft engines represent one of the biggest industrial challenges of our time to achieve the goal of aviation with zero emissions" - the words of Airbus' head.

Siemens CEO Joe Kaeser said that its subdivision Innovation AG, exploring new technology trends, will take up the electric aircraft project.

Airbus Group and Siemens plan to jointly develop prototypes for various propulsion systems with different power classes from 100 kilowatts to 10 megawatts or more. They can be used for short-haul aircraft up to 100 seats, helicopters and drones.

The companies had introduced their first hybrid aircraft, created in cooperation with Diamond Aircraft back in 2011. Since then, Siemens had been working on an electric motor able to issue five times more power while maintaining low weight.

The companies believe that hybrid electric engines systems can significantly reduce fuel consumption and aircraft noise. Currently, the European authorities are aiming at the goal of reducing CO2 emissions by 75 percent by 2050.

In the past few years, Airbus has been actively investing in the development of engines for small aircraft, powered by lithium batteries. In the summer of 2015, Airbus electric aircraft made its first fly over the English Channel.