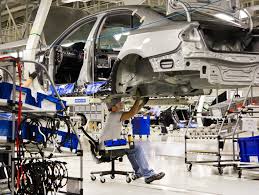 After a late push for support by United Auto Workers leaders, Ford Motor Co's U.S. union workers narrowly approved a four-year labor contract, the UAW said late Friday night.
After more than a week of voting that concluded at U.S. operations of Ford (
F.N
) on Friday night, 51.3 percent of production workers and 52.4 percent of skilled trades workers voted in favor of the new contract, the UAW said.
"This agreement provides a good foundation for Ford Motor Company, our employees and our communities as we work together to create an even stronger business in the years ahead," the company said in a statement.
The contract provides "job security and strong economic gains" for workers and the contract was reached "through a fair and democratic process" said Jimmy Settles, the UAW's chief Ford negotiator.
Till the time about two days ago when around three quarters of the votes were counted there were reports that 52 percent of Ford workers had rejected the new contract.
The new contract essentially phases out a two-tiered pay structure that paid those hired after 2007 less than more senior union members while it also gives veteran workers their first raise in about a decade. There are about 53,000 UAW members.
Four months after talks began between the UAW and Ford, General Motors Co and Fiat Chrysler Automobiles. After Ford's voting, all three of Detroit's automakers have ratified contracts.
The contract between UAW and GM for its 52,700 UAW members will go into effect on Monday. Since the last month, 40,000 UAW Fiat Chrysler workers have been working at the company.
An initial agreement was rejected by workers by about 2-to-1 at Fiat Chrysler which was the first target of UAW. UAW employees at Fiat Chrysler, which had the most second-tier workers, overwhelmingly approved a second proposal that set an eight-year path from hiring to top pay.
By the time the contracts reach their final year in 2019, GM and Ford per worker labor costs, of which pay is nearly half, will be $60 per hour, a study released on Friday said. GM's per hour labor are up $5 and Ford's rose $3. The same study showed that Fiat Chrysler's per hour labor costs will rise to $56 from $47, by 2019.
The share of the labor cost to each vehicle's average cost is much less than it was a decade ago, the same study reported.
Earlier on Friday, UAW union members at General Motors ratified a four-year labor agreement, two weeks after most rank-and-file GM workers voted in favor of the new contract.
Earlier following the rejection by the skilled workers, UAW leaders quizzed skilled trades workers on the reasons for their rejection and then went back to the negotiating table with GM seeking changes. Skilled trades workers include electricians, pipefitters, tool makers and millwrights.
In a statement, GM said ratification of the contract was "good for employees and the business."
The UAW defended the ability of a minority of its members to hold up ratification even if the majority has voted for a proposed contract.
"Since its inception, the UAW has put in place a process to ensure that minority groups have a voice," the union said.
(Surce:www.reuters.com)