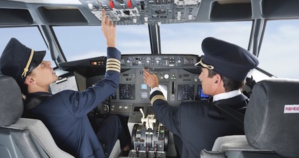 35 aircraft manufacturers and research groups are developing the new technology. It is expected that introduction of such a system would allow companies to save on staff, thereby reduce cost of operations, and increase security by reducing number of errors caused by human factor. The European Commission has been funding the development.

The project is called ACROSS, which stands for " Advanced cockpit for reduction of stress and workload," according to BBC. It is, in fact, a more perfect autopilot that can control the liner during bad weather, in the case of emergencies, as well as in heavily loaded airspace. The development will be completed in the next six months.

However, experts are concerned that the system cannot cope with its task. According to figures cited by The Times, a significant number of dangerous incidents during flights are prevented by pilots, not automatic. At the same time, creators of the project emphasize that in 2010, 60% of crashes occurred because of the actions of the crew.

Crew members are often perpetrators of air accidents. So, in December at the airport in Mumbai, was killed a technician of Air India: he was sucked into an airplane engine running, switched on by the co-pilot.

One of the most resonant accidents occurred on March 24 this year. The aircraft Airbus A-320 of the German air carrier Germanwings (a subsidiary of Lufthansa), which was carrying 150 people, including six crew members, crashed in the Alps in the south of France. According to investigators, co-pilot of the aircraft Andreas Lubicz closed himself in a cabin in the absence of his partner and deliberately sent the aircraft up the hill at cruising speed. This version is confirmed by records of both flight recorders of the liner.

At the same time, there are cases where actions of a second pilot helped avoid catastrophe. For example, in October, a British airliner of Easy Jet made an emergency landing in Venice because the captain went faint. The co-pilot reported the incident, and the airliner landed safely at the airport Marco Polo.