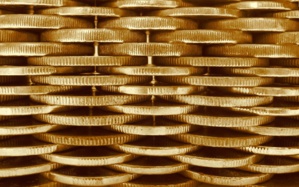 Chairman of the board of the world's largest investment firm BlackRock Laurence Fink suggested that gold is no longer cost-effective as a means of storing capital.
According to him, gold is no longer a reliable mechanism to protect their money from inflation.
For example, gold is currently more expensive, and on the London Stock Exchange reached a record from the time of 2011 mark of 1194.17 dollars per ounce in 2014, the metal rose by 1.4% of the cost, experienced a drop of 28% in 2013.
Gold exchange-traded funds increased their assets by 1.5% to 1,621,700 tons of gold.
Gold for the second time in a row for 14 years is cheaper by a decline in deposits in gold exchange traded funds.

At the same time, the average cost of housing in Manhattan jumped in early 2015 to a record for 6 years and has reached the mark of 1.3 million dollars.
London's luxury housing in the same period also reached a record, raising the price by 2.5%.
- Historically, gold has been a great tool for wealth preservation.
Now, however, gold has lost its luster, and there other mechanisms appeared to protect the welfare of inflation - shares his analysis Fink
- Now the two main means of welfare savings are contemporary art - and I'm not joking, and talking about a serious asset class - and apartments
in Manhattan, London and Vancouver.
For centuries, Gold bullion have been used as a major defensive asset in times of crisis, caused by the war and inflation.
However, the precious metal became cheaper for two consecutive years - in 2013 and 2014 - for the first time in 14 years due to the reduction of investment in exchange-traded funds backed by gold (ETF), the rally in global stock markets and the strengthening of the dollar.
Compared with the peak prices of 2011 the price of gold fell by 38%.
According to the published forecasts of experts from Goldman Sach, stocks open earlier and studied deposits of the metal will be enough for about two decades, and this means that the price for it will continue to grow.
- Gold mining remains stable for many years, but the total number of newly discovered fields in those years is shrinking too rapidly.
And if we will soon actually reach the peak of the gold, it would be logical to assume that this is a very favorable impact on gold prices, - says an analyst of USAGOLD P. Grant
source: bloomberg.com