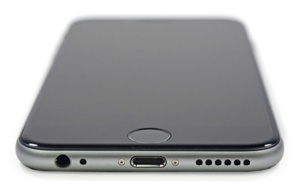 iFixit
At the same time, according to the company, the owner does not need to change the size or shape of the gadget for the use of new batteries. The only cosmetic distinction from the conventional devices is the presence of ventilation holes on the back side - for water vapor.

The publication's reporter managed to see a prototype of the iPhone with a new battery in the company's headquarters in Loughborough. Completion of the hydrogen gas is done within the cell through the hole, structurally similar to the headphone jack.

For the commercial launch, the company is developing a disposable cartridge that is inserted into the lower part of smartphones, with a sufficient amount of hydrogen-containing powder to work for a week without recharging.

Intelligent Energy said it now calculates the sales price of the elements.

It is believed that the Intelligent Energy works closely with Apple. At the same time, CEO Henri Winand refused to comment on these rumors. He said that, as far as he is concerned, a device with these characteristics has never been done before.

Meanwhile, as reported by CNN, Apple announced the recall of a defective batch of smartphones. The company's specialists have revealed a defect in the back camera of iPhone 6 Plus. Defective smartphones make fuzzy pictures. They were sold from September 2014 to January 2015.

To find out whether the phone falls in the number of those that are in need of repair, you can enter the serial number on the website.

The manufacturer promises that the problem will be fixed free of charge. To do this, the owners will have to bring their smartphones to any nearest local service center.