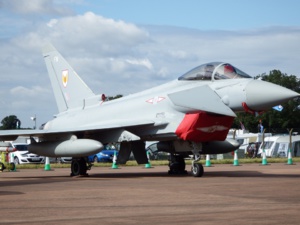 On Monday, British defense company BAE Systems stated it would be cutting more than 1,000 job this week.

The development will affects its plants in Warton, Lancashire in northern England where it assembles the Eurofighter Typhoon jet.

The company employs 34,600 people in Britain.

The company has already slowed down its production levels while it awaits a major order from Saudi Arabia.

In August, BAE Systems' CEO Charles Woodburn, who recently took over from Ian King, had said, he was confident of upcoming orders for the aircraft; the project is a joint venture between France's Airbus Britain's BAE and Italy's Finmeccanica.

In September, Qatar had agreed to buy 24 Typhoons.

Incidentally, the Typhoon has won fewer orders this year in comparison to its peer Rafale built by France's Dassault Aviation.

In August, BAE had said, new orders would not impact production delivery dates for at least the next 2 years and that production would be under constant review.

"We obviously have to review our (Typhoon) production demand very carefully," said Woodburn in August.

"BAE Systems continually reviews its operations to make sure we are performing as effectively and efficiently as possible, delivering our commitments to existing customers and ensuring we are best placed to secure future business," said BAE Systems to Sky News.

"If and when there are any changes proposed we are committed to communicating with our employees and their representatives first."

BAE was not immediately available for further comment.

BAE's shares were down by 0.2% at 611.8 pence at 0958 GMT.

Source: