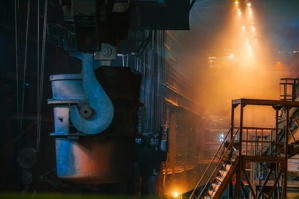 Within a span of almost three decades, the orders are flowing at the "highest level" at present in the British factories, reveals a monthly survey conducted by the "Confederation of British Industry", whereby the BoE policymakers might receive encouragement especially the ones in favour of "an interest rate hike".
According to CBI the British factory order's book showed a "+16" jump in its balance for the month of June, whereby marking the "highest level since 1988". Reuters poll figures based on economists estimation had forecasted "a weaker reading of +7" in comparison to the month of May's "+9". The growth in export orders could partially be attributed to the drop in pound value following the voting poll results in favour of Brexit.
BoE is likely to take notice of the "strong performance" at the manufacturing structure, wherein "three members of the eight-strong Monetary Policy Committee" casted their vote of consent towards rate hike sometimes in the last week. Furthermore, Reuters also reported:
"The MPC's five other members backed keeping rates on hold but on Wednesday, the BoE's chief economist, Andy Haldane, said he was likely to vote for a rate hike too later this year, as long as the economic data justified it".
On the other hand, the governor of BoE, Mark Carney, expressed his wish of seeing the economy of Britain coping up with "uncertainties about Brexit in the coming months" ere he takes into consideration "a rate hike". While, Investec's economist Philip Shaw thinks that the survey of CBI could act like a "marginal support" in favour of "a rate hike". However, considering the slow growth in the "much bigger services sector" caused by the reduced "consumer spending power", he added:
"But while it's reassuring to see some evidence of a strengthening of exports, one should remember that manufacturing still only accounts for about 10 percent of the economy".
The Chief Economist at CBI, Rain Newton-Smith, said:
"Nevertheless, with cost pressures remaining elevated, it's no surprise to see that manufacturers continue to have high expectations for the prices they plan to charge".
Simultaneously, the inflation rates in Britain has touched four years' "highest", due to the decision of Brexit that resulted in the drop in pound's value.
References:
www.reuters.com