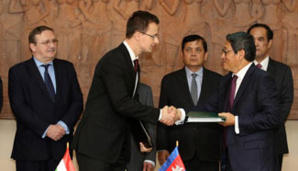 On the 14
th
of January 2016 Hungary and Cambodia signed onto a "mutual investment protection" agreement whereby both the countries will boost their economy by paving the way through "trade relations".
The dignitaries present during the signing event, who represented their respective countries were the "secretary general of the Council for the Development of Cambodia", Sok Chenda Sophea along with the Hungarian Foreign Affairs & Trade minister, Szijjarto, who was visiting the country, while the Foreign cum the Deputy Prime Minister of Cambodia, Hor Namhong witnessed the same. The latter also commented before the press after the "signing ceremony" was over:
"After this agreement, there will be more trade exchanges between the two countries."
Namhong believes that the agreement will enable more supply of Cambodian garment, footwear and milled rice to Hungarian market.
While, in the words of Peter Szijjarto:
"Signing the agreement on mutual protection of investment is a very good basis."
He also added that there is a possibility of exploring a co-operation between both the countries in various market sectors such as the food industry, the agricultural development, the pharmaceuticals, along with engineering science and information technology. In fact, Szijjarto also informed that in an attempt to "facilitate" a "business-to-business cooperation" between both the Hungarian and Cambodian companies, the Eximbank of Hungary has started a "credit line" worth "27 million U.S. dollars".
On the same day of the agreement signing, Phnom Penh saw the inauguration of "a Hungary's trade representative office" so that the companies from both the countries can avail help in working together.
References:
http://news.xinhuanet.com/