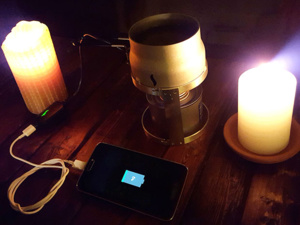 The growing population that has led to energy crisis is affecting the lives of innumerable human being, whereby the experience of a total power cut is something which is becoming more wide spread. Therefore, the liberty might be sought to say that the experiences of lights suddenly going off, a black out of the television screen, a computer shut down due to a battery drain and "worst of all" the smartphones batteries dying are quite familiar to all. These, simple yet life shaking experiences are dreaded by everyone.

Inspired by these social day to day problems, the California based "startup Stower" Andrew Byrn developed a candle charger which can charge smartphones. The innovative device is "simplistic" in design which primarily works on the concept and the "principles of thermo-electrics". In fact, the theory of thermoelectric is not a recent one; it has been in humanity's knowledge from the "early 1800's". Using the said technology, Byrn created his device wherein one needs to just light a candle and "fill the device with water". In Byrn or the co-founder of the company's words:
"So the way thermo electric generators work is you have a hot plate and a cold plate and you smash these generators together and it's that temperature difference, it creates a diffusion of energy from the hot side to the cold side".

The energy thus generated through the diffusion mechanism given an output in the range of two to three watts. In fact the same quantity of power can be derived "from a USB port". Interestingly, it is a sufficient amount which could charge tablets and smartphones. After all, as Byrn puts it correctly, when one is caught in "an emergency situation", a small quantity of charge can be a saviour and "can go a long way". Moreover, Byrn also states:
"Part the power of a mobile handset or a smartphone is infinitely greater than a vacuum cleaner and they only need tiny little bits of energy".

Furthermore, the company of Stower has also come up with "a similar device" which is designed to enable charging of phones "over a campfire", although Byrn's advice to all is to switch off all the devices, distraction of modern lives in other words, in order to enjoy Nature at its normal state. However, he also acknowledges the fact that doing so may not be possible all the time and he explains:
"I'd rather send a text from the top of a mountain than from a desk in my office," he said.
At present, Stower is busy "developing a charger for stove tops in Guatemala". This endeavour will act as a push for the expansion of the business by providing "sustainable micro-energy solutions in emerging markets". As per reports, with its campaign candle charger "Kickstarter", whereby still one month is remaining for its due period to end, Stower has collected almost "$27,000".
References:
http://www.eaglenews.ph/candle-power-to-charge-smartphones/