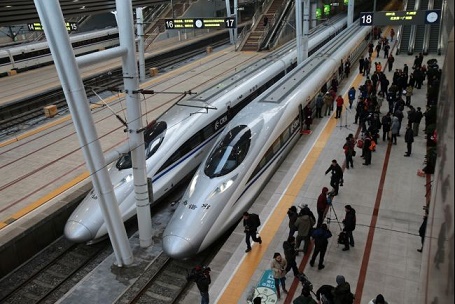 In an attempt to upsurge railway company's market share in the global market, China is planning to invest more than 800 billion Yuan ($128 billion) in domestic railway construction for the year 2015. Moreover, China will be aggressively pushing for international contracts. In addition, nearly 8000 km of railway lines are expected to be opened for domestic travels in 2015. The Chinese rail equipment construction companies will be actively participating in global infrastructure and development projects through coordination with its international counterparts in escalating the production capacity.

China is mainly aiming for developing markets of Southeast Asia, Africa, Eastern Europe and Latin America by intensely competing for foreign rail projects. While it is also pitching for prominent contracts in developed nations that includes the US. China's two biggest rail equipment manufacturers, CSR Corp. and China CNR Corp. are expected to enter into a merger agreement to accelerate exports of high rail technology.

China is implementing strategies to construct a new framework for domestic development. China has set aside a fund of $16.3 billion for its Silk Road Project for infrastructural development linking China's market to three different continents. In 2014, Chinese direct investment increased to $102.9 billion, which is likely to surge to $113 billion in 2015. This Project is a strategic initiation by the Chinese government, which includes a detailed list of major infrastructure plans regarding roads, railways, industrial parks, power generation, and IT that will be started soon.

Among the seven sectors selected by the government to focus on export, Chinese Premier Li Keqiang also included the rail equipment manufacturers in its annual national report. China's economic planning agency, National Development and Reform Commission, stated in a report that China need to step up in technological value chain for implementation of its strategy "Made in China 2025" for transforming manufacturing sector. During 2014, China signed contracts worth $24.7 billion for foreign rail projects as stated by Zhi Luxun, Commerce Ministry official. Both CSR Corp. and China CNR Corp. signed more than $6 billion of international contracts in 2014, a substantial growth of 60% from 2013. China's efforts to pick up in infrastructure development will open up economic corridors with its neighbouring countries, India, Bangladesh, Pakistan and Myanmar.

With high passenger rates, the high speed Beijing-Shanghai railway has recorded 1.2 billion Yuan profit in 2014. Railway projects are expected to be long term projects. It is however challenging for majority rail projects to turn into profitability as rapidly as high-speed Beijing-Shanghai rail line that connects two most developed cities of China. Moreover, the government is planning for structural reforms in rail investments with a goal to implement large projects in domestic railways, highways and transport related projects. The implementation of domestic as well as international infrastructural projects will stimulate overall economic growth by expanding transportation connections for both passengers as well as shipments. This step will further lead to creation of many employment opportunities.