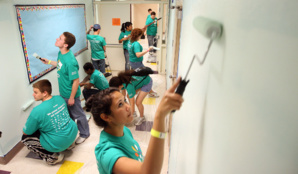 Comcast Cares Day is the single largest day wherein volunteers from corporates come together to provide some service to the community. This is not a one-time event, it takes place in April every year during the National Volunteer Month. This year it takes place on the heels of Earth Week.
As part of the
Comcast Cares Day
, volunteers from all over the world will contribute their time and energy at more than 750 sites. Employees from Comcast NBC Universal, their friends as well as families give back to the community the entire day and their volunteering work will go a long way towards making change happen.
With the completion of its 14
th
anniversary, the Comcast Cares Day has seen the completion of more than 6000 projects, thus contributing more than $16 million to local non-profit organisations.
"I'm very thankful to all of the volunteers and community partners who are contributing their time to make it such a memorable day and success," says Brians L. Robers, CEO and Chairman, Comcast Corporation.
He further goes on to say: "Being an active member and supporting the communities we serve is central to our company's culture. With more than 90,000 volunteers helping others around the world, Comcast Cares Day has an enormous impact on our employees and communities. I'm very thankful to all of the volunteers and community partners who are contributing their time to make it such a memorable day and success."
On Comcast Cares Day, volunteers from all across the globe, including, France, Japan, Australia, Netherlands, India, Switzerland, Spain, Africa, Mexico, Brazil, Italy and Germany will serve on project sites and "make change happen".
"Comcast Cares Day is a shining example of how our employees, family members, friends and community partners all come together with a similar goal of creating a positive, lasting impact in our communities. I am proud to join the tens of thousands of volunteers who will help improve our neighborhoods, making a positive difference in the lives of others," says David L. Cohen, Executive Vice President, Comcast Corporation.
On this day, projects across the world includes beautifying schools, refreshing playgrounds, planting trees, installing computers at community computer labs, revitalizing the neighbourhood parks, helping in stocking up food at community centres, and a lot more. As part of it initiative titled
Green is Universal
, many eco-friendly activities, such as building community gardens, planting trees, cleaning up riverbanks and beaches, etc. form part of these projects designed to help and support local communities.
As part of its Comcast Cares Day, it has partnered with local NPOs and local chapters of the
National Council of La Raza
along with the
National Urban League
. Additionally it has also partnered with
Easter Seals
,
Big Brothers Big Sisters
, and
Boys and Girls Clubs of America
along with a few hundred local organisations.
References:
http://www.businesswire.com/news/home/20150422005064/en#.VTuQYtKqqko