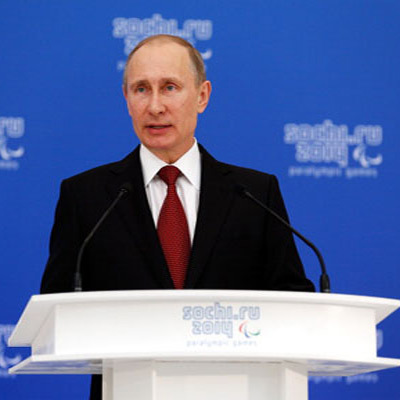 Russian President Vladimir Putin showed up, a
fter 10
days of absence from spotlight
. He dismissed all the rumors about his absence and appeared in public and said that "Life would be boring without gossip." It is however very strange that the leader of a country like Russia, which is surrounded by tensions from all directions, vanishes for 10 days without any reasons at all. His return coincided with largest military exercises carried by Russian army, since slump of relations with the West due to Ukraine crisis. Mr. Putin came back to his duties and announced that the Russian armed forces will initiate a series of drill exercises. The Russian President ordered almost 40,000 troops to get fully alert for exercises throughout Russia. Besides, 15 submarines, 41 warships, and 110 aircraft were also mobilised which indicated one of the Kremlin's largest display of military power. This must have come in response to the US who has continued to supply military equipment to Poland and the Baltic states.
The 62 years old, President of Russia met Kyrgyzstan's President at a lavish Tsarist-era palace in his first public appearance since March 5. His unexplained absence became the center of rumors for all. There were rumors about his illness, he being overthrown by the army, or his flight overseas to join birth of his love child. Some rumors included that his death was covered up by secret agencies, while on the other hand there was high concerns of a coup. Others also suggested that Vladimir Putin was suffering from cold.
During the period of his absence, Kremlin suddenly canceled a journey to Kazakhstan and also delayed signing of a treaty with delegates from South Ossetia. Further uncertainty rose, when Russian President was not present in a top officials meeting. Though the images of meeting with President Putin were posted on the websites, which were later clarified, had been taken many days earlier. Dmitri S. Peskov, spokesman of the president stated that he was busy working with official papers.
His absence began one week after the death of opposition leader added sparks to the already heated atmosphere of the country struggling from economic crisis. Russian economic crises was further worsened by the international sanctions. Russia repeated that Crimea will not be returned back to Ukraine. The US and EU have already stated that the economic sanction will not be lifted unless Crimea is returned to Ukraine.
The rising popularity of Vladimir Putin witnessed an increase of nationalists and anti-American sentiments stimulated by the media, since Putin sent his fleet of army to seize Crimea peninsula of Ukraine. Despite, the Russian economic turmoil that was led by collapse of global crude oil prices as well as Western sanctions, the President assured to spend above 21 trillion rubles ($335 billion) to restore the military over next 10 years.