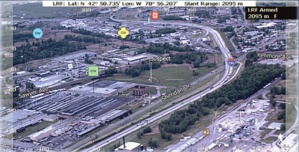 DS.Emotion
, a creative agency based in Leeds, England specializes in destination marketing, has now chosen to use
drones
to design branding campaigns for clients in the most innovative of ways. Drones have now got inculcated into mainstream usage, their usage has not only got non-militarized but they have now found their ways into innovative areas of operations such as agriculture, recreation, broadcast and advertising, search and rescue, terrain mapping, utility monitoring and media, to name a few.
As an industry, the market for Unmanned Aerial Vehicles (UAV) has grown to a whopping $130 million in 2015, a 50% hike from that of last year's figures. This number grows much more lucrative when services are taken into account, in which case the market has been projected to be worth close to a billion dollars by 2020, according to the Consumer Electronics Association. Drones have become symbolic of how the public perceives and interacts with the brands of big companies.
IKEA
the Swedish retail giant in 2013 was the one of the first companies to apply
augmented reality
(AR) to enthrall its customers. They linked up their printed catalog with smartphones via a mobile app, tablets etc to give a very real feel to customers, a sort of preview as to how their chosen furniture would look, when placed in their choicest room settings.
Hyundai was next: by displaying their suspended car on a wall campaign, to Absolut's
Absolut Truths
which displayed the vodka making techniques to consumers using AR. The market for AR registered a cool $350 million in the past year itself and is expected to grow considerably year after year, according to
ABI Research.
.
Destination Marketing is now a suave $2 billion industry. To every city or destination that is looking to attract foot traffic, it is the 'way go to' business growth tactics now. It is no more just a marketing ploy for attractive ideas that showcase a beautiful place, instead it is more of showing a point of view, from a high vantage point, that ensures undivided public attention.
Destination marketing, a $2 billion industry is relevant to every city or destination that wants to attract people. And what better way to give the consumer a view of a city or property than from the sky. Static aerial photography or mapping, are now being replaced by drones as the choicest way of looking at a place comprehensively. Drones are letting people see the city for all it can offer beyond just a few images rather a steady stream of pictures in motion.
DS.Emotion has also tied up with
IronBird
, a cinematography firm specializing in aerial footage and filming by drones.
Drones have made production of high quality videos for many an advertising company who do not have deep pockets such as those of a big media publishing house. The intricate maneuvering and wide versatility that drones offer has now been punched with a stylish creative cinematography that has come as a revelation to the marketing industry.
Using drones and augmented reality as marketing techniques has now allowed UK based advertising companies to offer services to China and UAE clients that were earlier reserved for only residential clients.
Amimon
an Israeli tech company has gone ahead and developed technologies to fit drones with wireless HD which promises to change the drone landscape quite considerably for the better. This helps in providing uniform quality for clients throughout the globe for companies that provide aerial cinematography services. This technology is also being used to monitor tricky situations such as oil rigs, power grids etc.
The usage of drones for augmented reality purposes has helped bring a destination come alive in the most stunning way.
References:
http://www.forbes.com/sites/jenniferhicks/2015/05/31/innovative-creative-branding-through-drones/