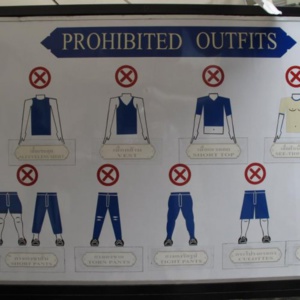 At the entrance to many government agencies in Dubai, new banners that pay attention to the rules of conduct and dress code in public places have already been set at the request of local authorities.
In addition, the departments of Dubai Municipality attenders, that do not comply with the dress code, issued the traditional female attire - abaya.
The initiative was introduced due to repeated complaints from the local people.
Tour booklets on the dress code are available at entrance of mall, for example, asking "to cover the shoulders and knees."
At the same time, as they newspapers say, store employees can ask visitors to leave the store if received a complaint on their unacceptable appearance from someone.

Dubai authorities in 2009 issued a special dress code, which, in particular, encourages visitors to wear modest clothing and a decent length of opaque fabric and "wear swimming costumes only on the beach."
Also, the rules stipulate a ban on the arms, and other physical displays of affection in public.
Rulebook was distributed in private and public companies, but has not been made public.
United Arab Emirates is a country of strict morals.
For example, previously, a citizen of Kazakhstan was arrested in Dubai and received a three-month jail sentence in addition to a fine of 548 US dollars for insulting a female police officer who said that he touched her shoulder to draw attention.
As the prosecutor told the court on December 2 at 16.00 the defendant sought the road to the metro station Dubai Mall. Turning to the police officer, who at the time was engaged in a conversation, he patted her on the shoulder/
According to the police officer, 21-year-old citizen of the United Arab Emirates, 49-year-old defendant asked her how to get the shopping center Dubai Mall, and she showed him the direction.
On the question of the policewoman, why did the tourist touched her, he answered in his native language.
The officer asked the tourist to follow her to the nearest police station, what was rejected and resisted.
As a result, the tourist was detained by two male police officers.
One of the policemen said that the man pushed him and tried again to touch the female police officer after his request did not touch his fellow.
The Dubai Court of First Instance ruled to deport the detainee after his release from prison.