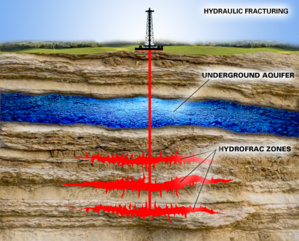 Equitable Origin (EO) announced that although the oil and natural gas industry did not have an independent environmental and social standards for review, today it is no more. Today the first independent environmental and social standards for the above mentioned industries have been created and put for public comment and review.
This is the
first draft
of international voluntary standard that has ever been published for the shale and gas developers. It has been created and designed in order to substantially reduce the risk profiles of the environment and communities while enabling the growth of greater transparency to the stake holders.
Once this draft social and environmental standard is finalized, it will be of great assistance to independent auditors who can then certify the operations of shale oil and gas to be compliant with the EO system.
David Poritz, co-founder and president of EO put the purpose of this standard very aptly as,
"The shale boom enabled by fracking and new technologies has profoundly affected communities and environments in positive and negative ways, making it one of today's most pressing and polarizing issues. Equitable Origin is not 'pro-fracking' or 'anti-fracking,'—we simply want to make the fracking operations already happening or about to happen more responsible and accountable. Our goal is to develop the strongest set of performance standards for responsible fracking yet proposed for the industry; standards that will highlight and incentivize best industry practices, provide a tool for communities to engage with companies, and minimize environmental impacts. We're excited to be taking this crucial first step toward that goal."
Soon after its creation in 2009, EO developed a
groundbreaking standard
that ensured environmental and social responsibilities for conventional onshore oil and gas exploration, production. Currently EO, is the world's only independent standard and certification system for shale oil and gas operations.
Already two oil fields in Colombia, owned and run by Pacific Rubiales Energy which produce 250,000 barrels a day, are EO100 certified as on August 2014. The newly created draft EO100 for shale oil and gas explorations and operation, are an addendum to the existing EO100 standard. The new additions address the development of shale which impact the safety and air quality of the nearby communities as well as the usage of water for such explorations and operations.
The draft is open for public comment for a period of 60 days. In this period all are invited to provide inputs that make the standard more lucid and comprehensive. Individuals as well as organizations are cordially invited to wholly participate in reviewing the EO100 standard as well as the EO 100 standard for shale oil and gas operations. Suggestions and comments can be sent to shalestandards@equitableorigin.com
Although the 60 day period inviting the public to comment on the said standards ends on the 15
th
May. EO however mentioned that it is always open to receive further suggestions and comments from those who are proficient in human rights related issues, experts in community developments, water quality, ecology, and the other areas covered by the EO100.
EO has also specifically requested inputs from the communities in the US who have been affected by the exploration and operations of shale oil and gas.
Soledad Mills explained:
"The development of the EO100 Standard was a process rooted in engagement and consultation with communities. We will take the same approach to developing this addendum as we work toward effective, fair, and transparent standards for responsible shale development."
For more information please do get in touch through the following email – contact@equitableorigin.com


References:
http://www.csrwire.com/press_releases/37758-Fracking-Standards-for-Social-and-Environmental-Responsibility-Published-for-Public-Comment