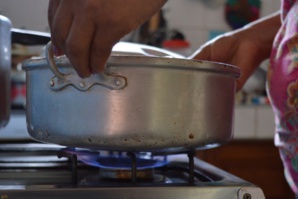 Since pork is widely consumed in Cuba and since many farmers and families raise pork as a livestock, Cuba's Ministry of Science, Technology and the Environment have planned the installation of bio-digesters so as to boost production. In 1980, with the help of the U.N, Cuba introduced bio-digesters but their usage spread only in the last decade thanks to the National Biogas Movement.
In order to meet the requirements of these bio-digesters, the authorities have proposed that all those who raise pigs need to guarantee a certain amount of disposal pig waste which will be used to generate biogas. As we all know, biogas is produced by the bacterial decomposition of organic waste matter. Biogas can not only help in the reduction of groundwater and soil pollution but also limit to a great extent the use of trees for firewood.
As reported in the Cuban press, the national potential for biogas production is more than 400 million cubic meters, which could effectively generate around 700 gigawatt-hours per day. This alone will substantially reduce oil imports by more than 190,000 tons as well as reduce the emission of carbon dioxide by 3 million tons.
It used to take Arianna Toledo, a doctor, almost double the time to boil water when she used to use firewood four years ago. But the installation of bio-digesters, which uses pig manure to produce biogas, have cut down the time as well as her expenses.
"The main savings is in time, because the gas stove cooks faster," says Toledo.
Another women named Rita Maria Garcia chips in, "In general, women manage the household budget, which becomes a burden. That's why they are thankful for the biodigesters, and many of them have been motivated to raise pigs and get involved in farming as a result."
In the town in which she lives, there are already 20 small home operated biogas plants and more than 300 in her province of Matanzas. These are typically run with the help and support of the Chrisitan Centre for Reflection and Dialog (CCRD-C), which is based in the city of Cárdenas, in the same province.
Bio-digesters have also to a great extent eased the burden off the shoulders of rural women.
"Our monthly power bill has been reduced, and we spend less on cooking gas cylinders, while at the same time we're protecting the environment by using a renewable natural resource," Toledo said.
Carolos Alberto Tamayo, Toledo's husband, then went on to explain that their four pigs are enough to guarantee enough fuel for the bio-digester. And if there is an excess of pig manure, "[it] is used as natural fertiliser for our garden, where we grow fruit and vegetables."
With the acceptance of bio-digesters by the rural folks, their usage is set to explode throughout Cuba in the next 5 years. In fact, the Swine Research Institute is planning to promote the usage of these bio-digesters in a big way: bio-digesters will be used in all of Cuba's state owned companies as well as its agricultural cooperatives.
As per reports, in 2014 1,000 bio-digesters were in place and being used in these sectors with the result that more than 12,000 people benefitted from their use. As per plans drawn by the Swine Research Institute, every year upto the year 2020, 1,000 bio-digesters will be installed throughout Cuba with the help of the United Nation's Small Grant Program.
Juan Carlos Rodríguez, CCRD-R's general coordinator said that the farmers are first taught how to build and maintain bio-digesters. Along with this they are also taught how to use organic fertilizer as well as ecological farming techniques.
References:
http://www.ipsnews.net/2015/02/biogas-eases-womens-household-burden-in-rural-cuba/