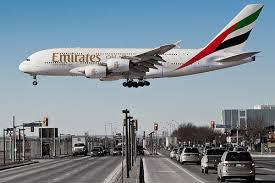 It is planned that the first flight on the new route will take place on February 1, 2016. Estimated travel time from Dubai to Panama will be 17 hours and 35 minutes; back - 15 hours and 45 minutes. In future, flights operated by aircraft Boeing 777-200LR, will be carried out daily. The ship will have eight first class seats on the board, 42 - in business class and 216 – in economy class.

According to the data available on the carrier's website, the cheapest ticket will cost 7865 dirhams (about 2.1 thousand dollars) in both sides for travelers.

Previously, the longest (13,790 kilometers) flight was considered a route carried out by the Australian carrier Qantas from Sydney - Dallas.

Recall that Hollywood actress Jennifer Aniston will be the new face of Emirates Airline. This information was confirmed by the representative of the airline, but terms of the contract were not disclosed.

New York Post, citing its own sources, reported that the contract with Aniston was awarded $ 5 million. Under the agreement, the actress will star in several commercials, and her image will be placed on advertising in newspapers.

Earlier, the Portuguese football player and the player of Madrid "Real" Cristiano Ronaldo became the international ambassador of Emirates Airline. A few weeks before the World Cup in 2014, he starred in a commercial with Pele.