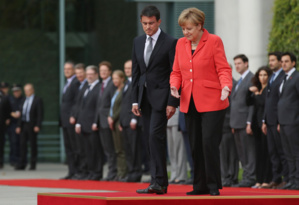 September 21, 2014 - Source: Sean Gallup/Getty Images Europe
- I got the feeling that all parties are working to solve the problem, - she said, pointing to the importance of the implementation in Greece of measures such as the privatization of state objects.
The head of government of Germany stressed that in the interests of Athens is to negotiate with the creditors as soon as possible, but it should include reforms.
- On the part of Germany, we are ready to provide all the support that will be required, - said the Chancellor. - But, of course, reforms must be carried out.
French Prime Minister Manuel Valls after talks in Dublin with Irish counterpart Enda Kenny said on Friday that in the coming weeks, the European Union may be able to find a solution of the Greek debt crisis.
- I hope that in the coming weeks a solution will be found", - said Valls.
According to him, Paris is anticipating Athens "to fulfill their obligations."
"Greece must continue the course of the implementation of necessary reforms," ​​- said the politician.
However, he stressed that Paris "respects the choice of the sovereign government of Greece."
April 21, European Commission President Jean-Claude Juncker in an interview released by the American newspaper Politico said that the possibility of a Greek exit from the euro zone and default on debts of Athens is completely ruled out.
According to the publication, Junker "warned that Greece's intransigence could push the continent to economic disaster, and rebuked Athens" unacceptable "lack of cooperation".
However, he said that if Greece will not be able to keep afloat economically, it "will lead to the consequences of scale which people themselves do not even realize."
"We are ready for a variety of events, but I am 100% rule out the so-called" Grexit ", i.e. the output of Greece" from the EU - said Juncker.
"No default will be there" - he added.
According to the European policy in the last days of talks between Greece and its creditors, "began to move in the right direction, although there is still a long way to go."
Greece is trying to get out of the acute financial and economic crisis with the help of partners in the EU and the IMF for a few years.
However, came to power as a result of the elections in January of this year, the Government Coalition of the Radical Left Alliance (SYRIZA) required revision of previous agreements, including their unreasonable and onerous for the country.
Since then Athens are with the IMF and the European Union complex debate about the resumption of cooperation.

reuters.com