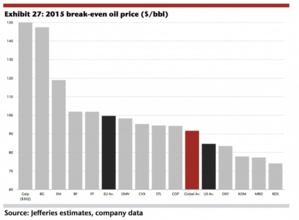 West Texas Intermediate oil: historical record

"Both companies have entered into a phase of lower costs, major projects will be completed and put into operation within two years," - says the report of Moody's rating agency.

Last year, Exxon has launched eight large projects in oil and gas fields in different regions of the world, including Papua New Guinea, Abu Dhabi and the Gulf of Mexico. Completion of these projects will allow companies to reduce the cost of projects in this year by 11% to $ 34 billion, which will not have a significant impact on production.

Shell has started four projects in the Gulf of Mexico, Nigeria and Malaysia. In 2015, the company is planning to spend $ 35 billion and reduce costs by $ 15 billion over three years, also without waiting for production cuts.

At the same time, the drop in oil prices caught other oil companies, such as Chevron and Total, at the time of growth of spending on projects, so that they will have to increase the amount of borrowing. Even BP, which managed to seriously cut costs and jobs, will be forced to increase spending on compensation in connection with the oil spill in the Gulf of Mexico in 2010.

Most major oil companies have announced budget cuts of 10-15% this year. Some of them have already suspended the redemption of shares, resumed dividend payments in shares and left the cash dividend at the same level. According to analysts, Shell and Exxon will be able to save expenses and dividends over other companies, if oil prices remain below $ 60 per barrel, as well as be able to buy assets at reduced prices.

Oil prices at which the company will come to a break-even point.

"Holders of a strong balance sheet can buy more assets in the downturn, such as low-cost producers of shale oil in the United States that are in dire financial straits," - said an analyst at Mirabaud Asset Management in London Kyrill Pyshkin.

According to Moody's, all big companies this year will be experiencing a negative cash flow, that is why they will have to resort to borrowing. All the companies pointed that they are not expecting problems in obtaining credit, as they have a debt-to-equity ratio below 20%.

"Large companies with ratings of" AA "and" AAA " still have access to finance attractive sources. Their balance sheets are able to withstand one or two years of low prices," - said senior analyst at Wood Mackenzie Tom Ellacott.