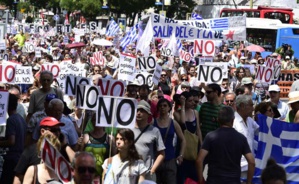 People hold placards reading "No" during a demonstration in support of Greece, in Madrid on July 5, 2015. (Agence France-Presse)
- The agreement between Greece and its official creditors si still possible, yet time is short and the risk of policy errors or that the parties simply did not manage to agree, are high, - according to Fitch.

The agency notes that the resignation of Finance Minister Janis Varufakis shows the willingness of the Greek government to resume negotiations with creditors. However, because the lenders will unlikely go for significant concessions, their proposals could once again be proved unacceptable to Athens.

Fitch believes that Greece may have difficulty with the conclusion of the agreement - even to a limited extent - until July 20, when Athens must pay off debt to the European Central Bank in the amount of 3.46 billion euros.

Last week, Fitch lowered the sovereign rating of Greece to "CCC" with "negative" outlook, downgraded the forecast reduction in Greece's GDP in 2015 to 1.5%. At the same time, Fitch analysts warned that in case of a negative response to the proposals of the creditors after the referendum, the recession may be even deeper.

Previously, the rating agency S & P also said that the probability of Grexit is now "greater than ever."

Also today, it was reported that the Greek government has extended the period of the closure of banks and restrictions on the movement of cash before the end of the day on Wednesday, July 8, said the press service of the Ministry of Finance to Bloomberg agency.

Earlier it was expected that banks will resume work in full since July 7.

Greek citizens will still be able to withdraw not more than 60 euros per day, and still the transfer of money abroad is prohibited. As before, these restrictions are not applied to foreign tourists.

Previously, the newspaper The Wall Street Journal doubted the reopening of the banks in Greece sooner than a few weeks. Restrictions on the movement of money can be preserved for an even longer period.

In a referendum in Greece, which was held on Sunday, 61.31% said 'no' to the proposals of creditors; 38.69% of the participants casted their voices in support. Despite the fact that the share of Greece accounts for less than 2% of the GDP of the Eurozone, the country's withdrawal from it would set a precedent that could call into question the integrity of the currency bloc.