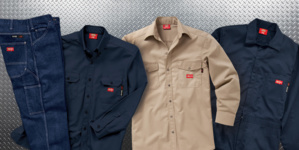 An announcement made by the G&K Services, Inc. revealed that the company's new catalogue will include "Dickies® FR" to its apparel's collections under "flame resistant (FR) rental uniforms". The G&K Services, Inc. finds its name among the "leading provider of uniforms and facility services programs". The vice president of "Marketing and Sales" section G&K, Dave Euson comments:
"We're excited to add Dickies, a brand name known for producing innovative, tough, and comfortable clothing, to our flame resistant product line. G&K is committed to providing our customers safety apparel that combines protection and durability with the added value of superior customer service."
The Dickies FR are being manufactured by the "Workrite Uniform Company". The product "line-up" will include a lightweight coverall of navy style, a khaki "snap-front shirt" and "button-down shirt" that will come in two colours "khaki and navy". Moreover, the customers will also get to select between "Dickies FR relaxed fit jeans or carpenter jeans". The sale's vice president of "Workrite Uniform Company", Victor Estrada commented:
"G&K Services has been a great partner in providing our Dickies everyday workwear. We take pride in the superb quality of our garments and are thrilled that G&K is adding Dickies FR workwear to its flame resistant product line."
The Canadian and U.S. customers can now avail this collection of "Dickies FR garments" in the market. Irrespective of the nature of industry, the G&K Services provides solutions for every kind of companies to meet the "flame-resistant uniform needs". The solutions are often, tailor made which depends on "their individualized work-site safety assessment". For further information, one can visit:
gkservices.com/flame-resistant-uniforms.
Nevertheless, BussinessWire writes about G&K Services, Inc., wherein it states:
"G&K Services, Inc. is a service-focused market leader of branded uniform and facility services programs in the United States, and is the largest such provider in Canada. Headquartered in Minneapolis, Minnesota, G&K Services has 8,000 employees serving approximately 170,000 customer locations from 165 facilities in North America. G&K Services is a publicly held company traded over the NASDAQ Global Select Market under the symbol GK and is a component of the Standard & Poor's SmallCap 600 Index".
On the other hand, the manufacturer Workrite Uniform Company, Inc. an affiliation of "Williamson-Dickie Manufacturing Company" that caters to "business-to-business" issues. Workrite Uniform Company was founded in the years of 1973, which has earned "a global workwear brand" through its forty years of production history of "high-quality flame-resistant (FR) workwear". Moreover:
"They are also the leading supplier of FR station wear for fire service. An ISO 9001:2008-certified company, Workrite Uniform is solely focused on the development and manufacturing of FR clothing for industries throughout North America. Today, Workrite Uniform offers three top-quality FR brands, Workrite® FR, Dickies® FR and Walls® FR, in the B2B market".
References:
www.businesswire.com