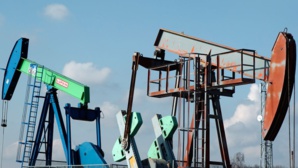 British oil exploration company UK Oil & Gas Investments (UKOG) on Thursday announced that they have opened substantial oil reserves in the south of England potentially exceeding its entire volume produced in the North Sea. UKOG's partner, an American company Nutech specializing in geophysical analysis estimated the total geological reserves of oil in the area Horse Hill-1 near London Gatwick Airport to 158 million barrels per square mile (61 million bbl. per sq. km).
- Basing on this, we assume that the area contains oil volume from 50 to 100 billion barrels, - said UKOG CEO Stephen Sanderson to the British BBC. This is probably the largest oil discovery onshore in the UK over the past 30 years, he added.
For comparison, in 1964, when Britain began to issue licenses for the production of hydrocarbons in the North Sea, about 45 billion barrels of oil were produced.
UKOG Shares, traded on the AIM of the London Stock Exchange went up by 208% since the beginning of the day, what follows from the exchange of data. The company's capitalization has increased from approximately £ 19 million to £ 58 million ($ 86 million).
Horse Hill's deposits similar in geology with productive shale formations collectors such as Bakken in the US and Bazhenov formation in Western Siberia, according to UKOG's press release. Based on the comparison with the US counterparts, the oil recovery ratio can be estimated from 3% to 15%.
- We believe that we can extract from 5% to 15% of the oil under the ground, and this means that by 2030 we can get 10-30% of the oil needs of the UK, - said Sanderson.
The company claims that the extracting can be done without the use of frecking, fraught with environmental risk, since oil in Horse Hill area is contained in reservoirs, "which can be successfully reached by traditional methods of horizontal drilling and completion."
Earlier in April, the British oil and gas company opened the first oil and gas field offshore on the Falkland Islands.
Premier Oil and Falkland Oil and Gas Ltd (FOGL) announced the opening of the first oil and gas field offshore the Falkland Islands. Drillers working in the area to the north of the Falklands have discovered two natural reservoir of oil and gas. Head of FOGL Tim Bachelet said that the work will continue.
After preservation of wells, the exploration platform will be moved to the south, where the company also expect to find fields suitable for the development.
It is noted that the discovery of oil and gas field may aggravate UK's relations with Argentina, which also considers the Falklands as its territory.
source:
bbc.co
.co.uk