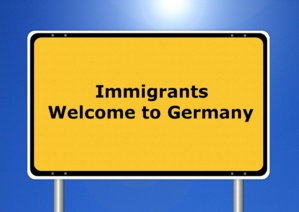 Georgina Prodhan reports to Reuters that "blue-chip companies" of Germany needed to give an explanation to Chancellor Angela Merkel for the reason behind the hiring of less than even hundred refugees, while close to a million of them set foot in "the country last year".
As per many such companies, the reasons behind such small number of refugee recruitment are the "lack of German-language skills", their inability to "prove any qualifications", along with the uncertainty of their stay period which subject to permission, therefore "there is little they can do in the short term".
In a survey carried out by Reuters involving thirty companies that are featured in the "DAX stock market index" of Germany showed that there was a total of sixty three refugee recruitment. On the whole twenty six out of thirty firms responded to the survey, whereby several of them stated that asking for the migration history of any applicants is considered "discriminatory".
From the sixty three refugees who were recruited, fifty of them have been employed by Deutsche Post DHL, which used a "pragmatic approach" wherein the applicants were asked to organize, sort and "deliver letters and parcels". Reuters was informed through an email that:
"Given that around 80 percent of asylum seekers are not highly qualified and may not yet have a high level of German proficiency, we have primarily offered jobs that do not require technical skills or a considerable amount of interaction in German".
However, the initial optimism of migrants lending their hands in boosting "economic growth" besides easing the "skill shortage" amid the German working population which is predicted to "shrink by 6 million people by 2030", is on its wan, while the chief executive of Thyssenkrupp Group, Heinrich Hiesinger, said:
"The employment of refugees is no solution for the skills shortage".
Several large companies in Germany, mostly in manufacturing unit, like to hire employees by putting them through "structured apprenticeship programs", wherein young trainees go through a training period of four years for "highly skilled and sometimes company-specific jobs".
However, the refugees who recently migrated from Afghanistan, Iraq, Syria and other places are not prepared for "such training". Reuters survey concerning "DAX companies" identified hundred ninety fresh apprentices joining these companies during the period either this year or that in last year.
On the other hand, companies like "Siemens, Mercedes maker Daimler or automotive technology firm Continental" have created a "pre-training" session which particularly meant for the migrants. Two such Syrian interns from Siemens, visited by Reuters, were "turned down" as they failed to "sufficiently prove their school-leaving qualifications". As a result, one of them is now temporarily working in IT, while the other chose to take "further German classes".
Moreover, a spokeswoman on behalf of Deutsche Telekom said:
"Our experience is that it takes a minimum of 18 months for a well trained refugee to go through the asylum procedure and learn German at an adequate level in order to apply for a job".
Nevertheless, other "top listed companies" of Germany from airline and financial sectors declared that it is "practically impossible for them to take on refugees at all", whereby citing "regulatory reasons" like the requirements of "detailed background checks on staff".
Talking about the motivation on the part of the refugees seeking for employment, SAP's refugee project leader, Uli Joos, said:
"Refugees working at SAP are totally motivated, and this motivates our colleagues to support them".
Reuters also reported that:
"About 346,000 people with asylum status were seeking jobs in Germany in August, according to the latest figures from the German Labor Office, up from 322,000 in July and 297,000 in June, the first month for which it published such statistics".
According to the economists, services sector has taken in most of the refugee, mainly in "smaller companies or in smaller towns and cities", and Organization for Economic Co-operation and Development's economist, Thomas Liebig, added:
"Obviously, in the low-skilled segment, mobility is low, Germans often won't go very far to find a low-skilled job. Now you have these refugees on your doorstep".
While, the mantra of Merkel says:
"We can do this." "There's basically not a choice. The people are here."
Liebig still questions:
"Will Germany manage?"
References:
http://www.reuters.com/