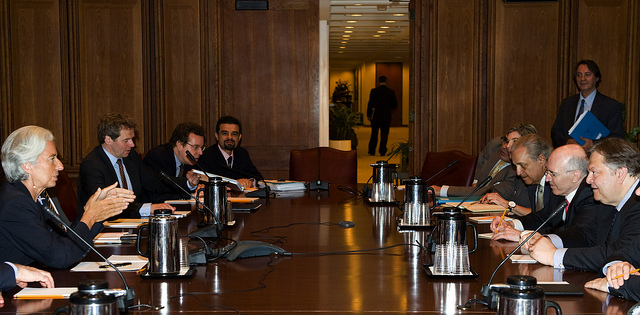 Greece plans to repay a part of its massive loan from IMF on April 9, the country's deputy finance minister announced amidst uncertainties over its capacity to pay back.

Fears backed by contradictory statements from the Greece government on the repayment debacle had been simmering on for last few weeks. The country's coffers are fast running empty and its lenders from euro zone and International Monetary Fund have frozen bailout aid. The lenders are looking to reach fresh agreements with the new Left government in Greece on reform packages.

While the country's interior minister indicated this week that the country would emphasize wages and pensions over the almost 450 million-euro ($490 million) payment to the IMF, the government made opposing remarks. The Euro Zone officials scurried when they heard that the payback would not happen and were worried that the country would run out of money on April 9.

The recent statement by the country's finance minister, Dimitris Mardas, aims to quell the negative reactions, especially from the country's lenders. "We strive to be able to pay our obligations on time. We are ready to pay on April 9," he said to a Greek Tv channel.

Even while the verbal tousle with Eurozone officials was ongoing, the Finance Ministry general secretary Nikos Theocharakis spread another round of unrest when he noted that the country would probably miss next week's IMF tranche. Mardas denied this claim as well and noted that Greece would be "close to the end" on April 9. Calling the technical teams from its creditors "completely useless," he elaborated that the general secretary was misunderstood.

The present situation in Greece is particularly interesting as its neighbors have expressed that a Greek exit from Euro Zone should no longer be opted out if the country misses its payment. Reform packages are also being emphasized by the Euro Zone member countries as they grow impatient with no solution and agreement in the hindsight. The country has not seen any bailout funds since last year August and has been borrowing from state entities.

Announcement of reform package at least will allow Athens to unlock remaining aid of 7.2 billion euros, part of the EU and IMF bailout and will potentially return 1.9 billion euros in profits made by the European Central Bank on Greek bonds.