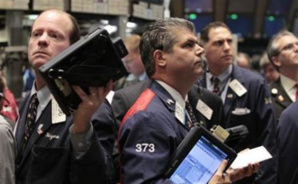 The U.S Stock Exchange had a pretty rough trading day due to Greece's possible debt default and exit from the eurozone. Stocks seemed to recover somewhat, after investors pinned hope on a possible deal to retain Greece in the eurozone, and finding a solution on the debt crisis.
Greece, in a seemingly last effort, submitted a new proposal to its creditors calling for debt restructuring. This proposal came hours before Athens would miss its deadline for a debt payback of 1.6 billion euro ($1.8 billion) to the International Monetary Fund. According to eurozone sources, Greece has indicated it would be open to softening its stance on the national referendum scheduled, if their request for a new loan is agreed upon.
At the start of the trading, Wall Street started on an upward graph before tumbling down along with European equities. By afternoon, signs of recovery could be seen in Wall Street on hopes of the Greek Prime Minister Alexis Tsipras being willing to resume talks.
Kenny Polcari, director of the NYSE floor division at O'Neil Securities in New York, stated, "I think (Tsipras) was a little defiant and arrogant and he overplayed his hand. It could still blow up. There's still nervousness in the market."
Most U.S Corporations do not have much exposure to Greece, but concerns have risen due to the fallout across Europe if Greece exist the eurozone. Further vulnerability was caused due to the expiration of quarterly options. The expiry of weekly options is a day early due to the holiday observance on upcoming U.S Independence Day.
U.S stocks have fallen sharply in heavy trading of late due to worries about Greece. Dow and S&P 500 both had their worst day since October 9 due to the same concerns.
The S&P 500 (
.SPX
) benchmark registered its first quarterly decline in ten quarters, the Dow Jones Industrial Average index (
.DJI
) ended last Tuesday showing a decline for the first half of 2015. Only NASDAQ (
.IXIC
) clocked its 10th consecutive quarter of gains.
NASDAQ, the S&P and the Dow all closed lower for the month.
U.S data has been overshadowed so far due to the dramatic headlines coming out of Greece. Single-family home prices even rose from the past year but at a slower rate than forecasted.
A separate survey showed the U.S consumer confidence index has risen to 101.4 in June, crossing estimates made for a reading of 97.3.
The S&P 500 (
.SPX
) gained 5.48 points (0.27%) to finish at 2,063.12. The Dow Jones industrial average (
.DJI
) rose 23.16 points (0.13%) to close at 17,619.51. The NASDAQ Composite (
.IXIC
) added 28.40 points (0.57%) to end at 4,986.87.
Out of 10 major S&P 500 sectors, 7 showed positive gains, with only consumer staples, utilities and telecommunications showing slight declines. Most exchanges registered advancing issues outnumbering declining ones.
Compared with the 6.3 billion shares average for the past five sessions, the current session has seen 7.5 billion shares change hands on U.S exchanges.
References:
http://www.reuters.com/article/2015/06/30/us-markets-stocks-idUSKCN0PA1AY20150630