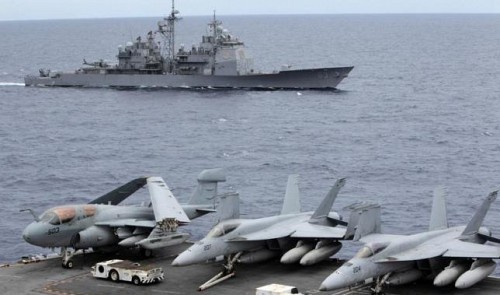 The rapid expansion of China over the South China Sea has led the United States to plan an increment of "military and humanitarian" drill conducted in the Asia-Pacific which would reveal their new strategy. The Philippine military broke this news on Wednesday.
Pentagone has created a fresh draft of a strategy, named the "Asia Pacific Maritime Security Strategy" whose key aspects were highlighted by the U.S. Pacific Command's commander, Admiral Harry Harris. The highlights were presented in a talk that was held between the U.S. and Filipino commanders, whereby General Hernando Iriberri of Filipino and Admiral Harry Harris paid a visit to Manila.
According to a military spokesman, Colonel Restituto Padilla's statements to journalists said report provided the blueprint of "Washington's set of actions in the disputed South China Sea and East China Sea". Moreover, the focus was mainly turned on protecting the "freedom of seas", whereby "deterring conflict and coercion". Additionally, it also pushes for abiding international laws.
The most waters expanse of South China Sea, claimed by China, generates "$5 trillion" through ship-borne trades that sail out of that water passage on which there is an overlapping claims from many nations which include:
"...Philippines, Vietnam, Malaysia, Taiwan and Brunei.
Reuters received some comments from a military course who witnessed the rendez-vous of Iriberri and Harris. He said that the Philippines and the United Nations are likely to enhance "the size, frequency and sophistication of exercises in the region". From the year of 2013 in the month of December, the country of China began to make efforts to reclaim the lands, whereby it has acquired "more than 2,900 acres" which would be an equivalent of "1,170 hectares" as on June 2015. This news came from the Pentagon's last week's report that talked about the Asia-Pacific Maritime Security Strategy.
Moreover, Reuters concludes that:
"The reclamation campaign significantly outweighed efforts by other claimants in size, pace and nature, the Pentagon report said.
"China says the outposts will have undefined military purposes, as well as help with maritime search and rescue, disaster relief and navigation".
Source(s):
http://www.reuters.com/article/2015/08/26/us-philippines-usa-southchinasea-idUSKCN0QV0Y720150826