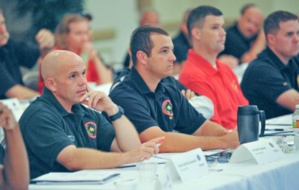 Lifelock Incorporated is in the business of preventing identity theft and thanks to its risk management services corporates can do business with peace of mind. Thanks to its proactive identity threat detection service, which leverages unique data from its patented technology from ID Analytics, its fully owned subsidiary, lifelock provides you with identity theft protection that is not limited to just credit monitoring but provides you with a more comprehensible approach to identity thefts.

Being fully committed, it trains law enforcement agencies and non-profit organisations so that consumers develop a proactive positive habits to combat this growing menace.

As part of its Corporate Social Responsibility, every year on its inaugural day, Lifelock's employees leave their desks and go on the field to contribute something to local communities. This is a yearly event and part of their work schedule. All of its 675 employees across all locations be it San Diego (California), Tempe (Arizona), or Mountain View (California).
"We're proud to be putting our values into action during this day of service on the tenth anniversary of our company. It's one of the many ways we're invested in our local communities and contributing our expertise where there is a need for a helping hand," said Todd Davis, LifeLock's CEO.

This day has been christened the Do-Gooder Day. It's volunteerism as part of its corporate social responsibility not only provides its employees with a feel good factor and peace of mind but it also provides them a sense of giving back something to the community.

Case in point, volunteers went down to the Sojourner Centre in Tempe, which is one of the biggest centres that caters to transforming the lives of those who have been subject to domestic violence. The volunteers sweep, dust, mop and help in the maintenance of the centre.

In San Jose, Lifelock's employees go help in the Second Harvest Food Bank, a leader providing food to the hungry. Second Harvest has long established itself as a trusted source to which the homeless and the hungry can turn to. It feeds almost a quarter of a million people every month. Lifelock's volunteers thus go to the Second Harvest Food Bank and help sort out the food from its warehouses.

Volunteers also go to the Boys and Girls Club in San Diego, which provides children with education that promotes a drive for academic success. It helps them build their characters and teaches the values of a healthy lifestyle. Lifelock's volunteers not only assist the teaching staff, but helps with cleaning of the facilities and other required transportations.
"Volunteerism and giving back has been an integral part of our company from its inception. I can't think of a better way to celebrate a decade of being in business than dedicating a day of service to our nonprofit partners that give so much to the community," said Hilary Schneider, LifeLock's President.
So as to effectively combat identity theft, Lifelock provides the necessary training to not only law enforcement agencies but to victims and other collaborators as well. Lifelock event partnered with the FBI's Law Enforcement Executive Development Association (FBI-LEEDA) and provide training to more than 11000 law enforcement officers throughout the U.S, free of charge. It also partners with the National Organisation for Victim Assistance (NOVA) in order to provide training to those who advocate against identity theft as well as to the victims of identity thefts.
Since 2014, Lifelock also partners with the
National Parent Teacher Association
so to educate and teach them safe online etiquettes.
References:
http://www.businesswire.com/news/home/20150416006197/en#.VTJbBtKqqko