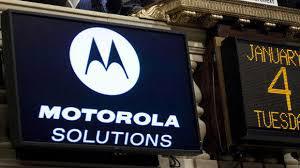 The publication writes that the company failed to find a buyer, but instead, Motorola Solutions has raised $ 1 billion from private equity fund Silver Lake, which allowed the US vendor to focus on the development once again. The company intends to use the funds to accelerate the development of "smart" solutions for public safety, as well as services for business through the creation of new partnerships, investments and acquisitions. Prior to that, it was selling the equipment only for the firefighters and police officers.

Financing is carried out by Motorola Solutions model PIPE (private investment in public company) in the form of debt that can be converted into ordinary shares. The conversion price of securities, mentioned in the agreement, is $ 68.5 per share, which is 30% higher than the average Motorola Solutions' share price for the 30-day period ending August 4.

Under the agreement, two top managers of Silver Lake - Egon Durban and Greg Mondre - will join the board of directors of Motorola Solutions. The transaction is expected to be closed in the III quarter 2015

Motorola Solutions has appeared on the market in 2011 after the division of the corporation Motorola. As we recall, the business of manufacturing mobile gadgets - Motorola Mobility - was first sold to compatriot - Google, and then the asset was bought by the Chinese Lenovo.

Today, Motorola Solutions is an independent company, which has recently fallen on hard times. The company's revenues in 2014 decreased by 6% to $ 5.88 billion due to weak demand for telecom equipment. The vendor's operating profit declined down to 45%. In 2015, Motorola Solutions expects at best zero growth in revenue, and at worst - a drop of 2%.

In II quarter of 2015, Motorola Solutions expects sales drop by 3-5% compared to last year. The company has become more dependent on government clients, after in 2014 it sold its corporate business to Zebra Technologies company. Motorola Solutions has more than 100 ths. of clients in 100 countries. Among its customers are local, regional and state agencies of public safety, as well as utilities, mining and transport companies.

In February of this year, several respected publications, including Bloomberg and The Wall Street Journal, reported the possible sale of Motorola Solutions. Later, in April, it was announced that negotiations with potential buyers failed because the latter had doubts that the deal will pay off. The market capitalization of Motorola Solutions as of 5 August 2015 is $ 12.6 billion.