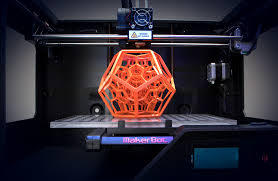 A new technology for 3D printing being developed by Carbon3D gas attracted a host of top notch investors that include Google Investments and billionaire Yuri Milner, known for his early investments in Facebook and Twitter.
After a round of fund raising blitz organized by the company, it reportedly could increase its valuation to around $1 billion according to filings reviewed by research firm PitchBook. Even as the company declined to comment on the present valuation, Carbon3D announced on Thursday that it would be investing $100 million into Carbon3D's Series C round.
The new technology for 3D printing is getting investors excited, said a company source.
The round also saw the participation of a new investor, Reinet Investments S.C.A as well as all of Carbon3D's existing investors like Sequoia Capital, Silver Lake Kraftwerk and Northgate Capital.
The total funding for the company now stands at $141 million.
Light and oxygen are used by the machines of Carbon3D to creates objects. A clear window that lets in light and oxygen placed below a puddle of resin sits in a tray is the new technology that is being used by the company. This process is similar to how the material for contact lens is permeable enough to let in oxygen. While the light attempts to convert the liquid to a solid form the oxygen attempts inhibits the process of solidification of the liquid. A 3D object can be created form the liquid resin through careful controlling of both light and oxygen.
To attain the specific type of characteristics a user wants the object to exhibit, the resin is prepared and tailor made to suit the characteristics. for example, the resin can be made to become extremely heat resistant which is required for withstanding extreme heat for engines or it can be tailor made to become extra stretchable and stretch resistant.
The present 3D printing technologies require the compilation of layer on layers for making the final object which is a slow process and there can be inconsistencies in the final part.
"3D printing up to this point has been dominated by mechanical engineers. It's basically been a 2D process over and over again," said Carbon3D CEO and cofounder Joseph DeSimone. He was a chemistry professor at the University of North Carolina for 25 years before starting Carbon3D.
"Chemists like to think about growing crystals. There's some analogy in that to what we're doing – we can grow parts that have any kind of property," DeSimone says.
Experts and investors are of the opinion that the new 3D printing technology can be 10 to 100 times faster than the existing popular 3D printing technologies. Carbon3D is of the view that the present situation is conducive for the company to get engaged in large scale commercial manufacturing.
"We've been contacted by every Fortune 500 company that fabricates physical material. There's been huge inbound interest," says DeSimone
"Lots of people have been using 3D printing to prototype equipment and want to cross the chasm into manufacturing. I think we have the chance to go at mass manufacturing directly," said DeSimone.
"What you're seeing in the size of the round is the belief that we've now found a company that can live up to all that 3D printing hype," said Andy Wheeler, partner of Google Ventures.
(Source: www.forbes.com)
www.forbes.com
)