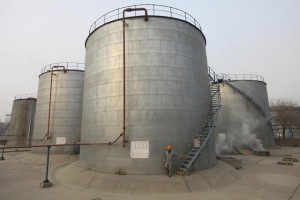 India first began to buy crude oil for their oil tanks, Reuters reported with reference to the Indian sales office.
According to the agency's sources, the Indian State refiner Indian Oil Corp bought 2 million barrels of Iraqi oil from a Chinese trader Unipec, and this amount will be directed to a strategic reserve (SRP).
In addition, Indian refiners IOC and Hindustan Petroleum Corp Ltd, also controlled by the state, will acquire three large tankers for storage SRP Vizag in the State of Angra Pradesh (south-east).
Oil began to fall in price since mid-summer.
Then a barrel of Brent cost about $ 100, while its price is now just above $ 55 and US WTI is trading at around $ 48 per barrel.
In addition, right now oil quotations are declining on expectations on West and Iran arrangements over sanctions against the latter.
If the embargo on Iranian oil will be canceled, Iran, in addition to the already exported about 1 million barrels a day, can put on the market, according to various estimates, 0.5-2 million barrels per day, which will put additional pressure on oil prices.
India is not yet a world-scale player to have some influence on the oil market with its strategic reserves.
However, other big players are committed to hoard oil too, and have already been doing it for quite a long time.
For example, the US oil reserves are growing for 11 consecutive weeks and have peaked for the first time since 1982.
According to the latest data released by the US Department of Energy, there are 466.7 million barrels.
By the way, the growth of US stocks is considered as one of the major factors pulling the world oil prices down.
It is also true that America will soon have nowhere to store oil in - in early March, it was reported that the US warehouses are filled to 70%.
China is fot far behind America, and fills its storage for not the first year.
Exact figures have not been made public, but the representative of the Chinese state company Sinopec last week said that the commercial and strategic oil reserves in China have almost reached the maximum level.
Research firm ICIS-C1 Energy previously published forecast that by the middle of 2015 the oil reserves of China would reach 7 million tons (50 million barrels).
The main growth spurts of oil reserves in China occurred at the beginning of the 2013th and 2015 year.
Now, under long-term contracts, China gets more expensive oil than could be bought on the world market, so that the Chinese are trying to
lay oil in store. On the other hand, energy is the most vulnerable point of China. Current personal projects of Chinese companies that buy wells in countries such as Kazakhstan, Australia, Canada, can only provide 30% of the country, so it is necessary to increase imports.