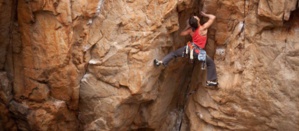 Founded in 1966,
The North Face
, a division of VF Outdoor Inc, has a clear set of ideals as it goals. It endeavours to prepare rigorously young men and women as outdoor athletes. The North Face brand today is synonymous with creating world class products that are expedition-proven and athlete tested; products which help support explorations and push the limits of human potential.
Headquartered in California on a LEED Platinum-Certified campus, the North Face is respectful of nature and its surroundings, which it calls its outdoor playgrounds. It makes all the necessary efforts to reduce its carbon footprint and actively encourages programs and activities that support sustainability. Its products are available at speciality retail sporting outlets and at premium stores the world over.
In 2010, in an effort to start a worldwide movement towards Outdoor Exploration, the North Face created the
Explore Fund
. Since then it has provided more than $1.5 million in grants to various organizations who are committed to inspiring the youth towards outdoor exploration and conservation.
As part of its mission to start a global movement of Outdoor Exploration, The North Face introduced the Explore Fund in 2010 and the program has since provided more than $1.5 million in grants to organizations committed to inspiring the next generation of outdoor explorers and conservationists.
In a continuation of its outreach program that help explore and support outdoor athletes, The North Face opened its 2015 Explore Fund grant. Open till the 17th of April 2015, grants totaling to %500,000 will be awarded to organization that fulfil certain prescribed criteria. The explore funds are typically disbursed to organizations that are a medium which allows the youth to connect to the outdoors in meaningful ways.
Ann Krcik, North Face's Director of Outdoor Exploration states:
"For 2015, we are looking to identify programs that will provide experiences that nurture an enduring appreciation of the outdoors. We want these programs to encourage people to explore and appreciate the outdoors in their favourite ways, whether that be hiking, skiing or camping – we want to be the catalyst."
Applications for the grants are evaluated on certain key criteria such as the projected impact of the excursion on youth and the nature of activity and its alignment to the spirit of adventure. Moreover, applications which maximize and bring about a sense of togetherness in communities, a sense of collaboration and partnership, are looked upon favourably. Grant applications are reviewed based on their individual merits, as part of a balanced portfolio that factors criteria such as type and kind of program funded, geographical location, target audience, etc.
All applicants who register for the Explore Fund grant must necessarily be non-profit organizations registered under section 501(c)(3), failing which they have to in "a formal relationship with a qualified fiscal sponsor". In order to receive the grant, applicants are to provide all of the requested information in the online application form. It is to be noted that Explore fund grants are for one year only and just because a grant has been provided in a given year does not necessarily ensure that future grants will natural or automatically follow.
For more information on this outreach program do visit
www.explorefund.org
References:
http://www.csrwire.com/press_releases/37769-The-North-Face-Announces-2015-Explore-Fund-Grants-Open-for-Applications