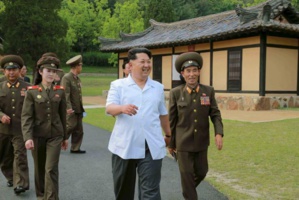 REUTERS/KCNA
According to the agency, three days ago Melissa Hanham, an employee of the American Center for Nonproliferation Studies of the James Martin, analyzed photos from North Korea Pyongyang Institute of Biotechnology published in the press and stated that the North Koreans are going to "use it for creating anthrax spores for military purposes."

The highest organ of state power in North Korea - Defense Committee - issued a statement by its spokesman, stating that Barack Obama and congressmen from all ministers and deputy ministers will have the opportunity to see the "mysterious Pyongyang University of biotechnology."
- They will also see that a society where human rights are respected the most, - quotes agency statement of the Defense Committee of the DPRK.

Recall that last month, the DPRK said that US plans to use biological weapons against the country. North Korea's Permanent Representative to the UN Cha Song Nam sent a letter to the Security Council and UN Secretary-General Ban Ki-moon with a request "to ensure a thorough investigation of the United States hatched the plans of insidious biological warfare."

- The United States not only have a lethal weapon of mass destruction, but also try to apply it in the real military action against North Korea on the Korean peninsula," - said the North Korean diplomat in a letter. This way, North Korea responded to the fact that earlier the US mistakenly sent samples of anthrax spores in the South Korean lab.

May 28, US Department of Defense announced that they have identified more than 20 cases of erroneous sending anthrax spores. It was about sending within the country and abroad. Employees of US military bases in South Korea could get at risk of infection during the exercise. None of the employees caught up in the risk zone has got any signs of infection.