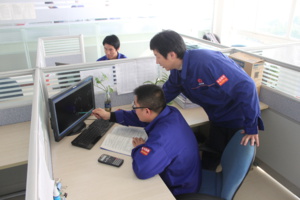 The cause of bankruptcy became significant losses incurred by the company in 2014 (10.14 billion yuan, or about $ 1.4 billion). Recent months, the company was facing a shortage of capital and inability to refinance on the open market.
In the period before April 21, Baoding Tianwei had to pay interest on the bonds traded on the domestic market, in the amount of 85.5 million yuan ($ 13.8 million). The company warned that they are going to continue raising funds, including through the sale of its assets.
- Our company has suffered huge losses in 2014, and the ratio of debt to assets has increased dramatically. We were not able to raise enough funds for debt service, in spite of all efforts, - said Baoding Tianwei.
Bloomberg notes that the financial markets in Asia had almost no reaction to Baoding Tianwei's default. Thus, China's main stock index Shanghai Composite closed at the high since March 2008, and the Hang Seng China Enterprises in Hong Kong grew by 2.8%.
As pointed out by Reuters, Baoding Tianwei became the third defaulted Chinese company. The other two structures were private: solar panel manufacturer Shanghai Chaori Solar Energy Science & Technology (could not pay on the bonds in March 2014) and technological Cloud Live Tech Group (defaulted in early April of this year).
Bankruptcy has become possible thanks to the policy of the new Premier of the country Li Keqiang, the newspaper notes. The government actually has enabled the market to decide what companies will be able to survive in a difficult situation, and what will not.
Li previously promised to liberalize the second largest economy in the world, as well as to weaken the influence of the government. The government hopes to "organize" defaults that will not cause the financial system as a whole serious damage.
Now 91 percent of bonds issued by Chinese corporations on the market belongs to companies with state participation. In this case, the volume of corporate debt, China ranks first in the world. Similar figures were observed in South Korea before the Asian financial crisis in 1997.
In the first quarter, the Chinese economy grew by only 7 percent, the worst performance since 2009. State and Central Bank strive to maintain high growth rates due to the liberalization and modernization of the economy, while maintaining a tight monetary policy.
Corporate debt of Chinese companies is the largest in the world (14.2 trillion dollars at the end of 2013 - more than 13 trillion in the US), and as to the publication, a similar situation existed in
South Korea before the Asian financial crisis in 1997.
China has taken measures to empower refinance loans of state companies, but so far, this is point and is mainly concerned loans to agricultural enterprises.
source: bloomberg.com