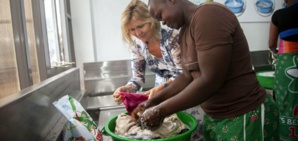 In order to increase increasing awareness vis-à-vis safety aspects of the laundry room, Proctor and Gamble's brands Tide and Gain have entered into a mutually beneficial partnership with a Non-Profit Organisation called Safe Kids Worldwide through which both partners will together in order to avoid preventable injuries for kids. This partnership will mark the launch of P&G's laundry safety initiative aptly titled 'Up, Up and Away' wherein caregivers and parents will be reminded to seal laundry detergents pack 'up', store pac 'up' and keep them 'away' from children, thus Up, Up and Away.
Being of curious nature, young children tend to explore their world with their tiny little hands and legs and in order to learn from their environment, a lot of the things that they touch, they put it into their mouth. As a parent you can only do so much to childproof your home. Many times, the laundry room is overlooked. That is the reason why children need to be always supervised and be placed in a sanitised environment, so as to ward off accidents and mishaps.
Shailesh Jejurikar, President of Fabric Care and New Business Development, North America, says, "At P&G, safety is our number one priority. Most of us are parents too, and we want families to use our products safely. Our Up, Up, and Away campaign and our partnership with Safe Kids Worldwide will support families with information and tools to create safe home environments. We deeply respect and admire the work that Safe Kids Worldwide does in helping reduce the amount of preventable injuries and know that they will be great partners in equipping families with laundry safety information and tools."
This collaboration between Safe Kids Worldwide, Tide and Gain will educate families and raise awareness on how to prevent an injury from happening to a child. The campaign will run across the country. It will include multiple initiatives such as community outreach program, online tools and tips, and a Safe Kids coalition grant program. The campaign kicks off on Safe Kids Worldwide's annual Safe Kid Day – a day aimed at saving every kid from an accidental mishap. Please click
here
in order to find an upcoming Safe Kids Day event in your area.
"When new products come into our homes, we need to look closely to see if we need to make any changes to protect our kids. We have seen this happen with flat panel TVs and now with laundry packets. Safe Kids is embarking on a new partnership with Tide and Gain to make sure that families and caregivers understand the importance of keeping all laundry products, including laundry packets, out of the sight and reach of our children," said Kate Carr, CEO and President, Safe Kids Worldwide.
Here are a few precautions you, as a parent, can take, to keep your child safe in your laundry room:
Like most household cleaning products, laundry pacs too need to be handled with care, especially when you have children around. After every use, keep all your detergents packed 'Up, Up and Away' so that they do not fall into from curious hands.
In order to ensure that these are placed in a childproof cabinet, please ensure that your cabinets have a safety latch feature, which will make them inaccessible to children and thus make them childproof.
Please ensure that you close the container of the product and consciously it put away from harm's reach. It is recommended that the products be in their original container and not be transferred to another.
It's a recommended practice to save the US Poison Control number (1-800-222-1222) in your phone's speed dial. In case of an emergency, call the Poison Control line without any delay.
P&G is wholly committed towards educating parents on the correct use and storage of household detergents and fabric care products vide their modified packaging, Safe Home programme and public service messages. The partnership with Safe Kids Worldwide only goes to amplify its efforts so as to avoid any potential pitfall for you and your family.
References:
http://www.businesswire.com/news/home/20150424005018/en#.VTuQItKqqko