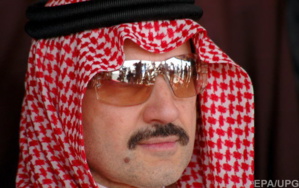 Prince wrote about this intention on Twitter, where he has three million subscribers, according to the BBC.
- In gratitude for his role in the operation I have the honor to offer 100 Bentley cars to 100 Saudi pilots - said in a statement.
The Prince's gesture was called generous In Saudi Arabia and it was assumed that the pilots deserve even more.
However, outside of the country, particularly in Yemen, the statement of Al-Waleed bin Talal was considered offensive.
One of the users of social networks said: '100 Bentley to 100 pilots bombed Yemen.
And no one ambulance to hospitals defeated by them.'
The Prince's Tweet at the moment has already been removed, but its screenshots are still circulating on the network.
Saudi media reported that "senior" account has been hacked.
In this regard, many of the media lead the statistics of the World Health Organization that at least 944 people killed and 3 thousand 487 injured for four weeks of fighting in Yemen,.
Yemenis themselves talking about 2 900 dead and several thousand injured.
Prince bin Talal is owner of the largest in the kingdom company Kingdom Holdings.
He owns a stake worth $ 300 million in Twitter, as well as stakes in Apple, Time Warner and Citigroup.
In general, his fortune is estimated at $ 23 billion.
A day earlier, it was reported that a coalition of Arab states led by Saudi Arabia is going to stop the bombing of the Huthis position in Yemen.
The decision was made in connection with the military objectives of Operation Resolute storm, Deutsche Welle reports citing AFP.
The representative of the coalition command, Brigadier General Ahmed Assyria said that the operation is completed at the request of the Yemeni government and President Mansour Hadi.
For a month, coalition caused about 2 thousand air strikes on Huthis rebel positions.
Following this, it was reported about a new operation called Restore Hope, aiming at protection of civilians, ensuring evacuation and preventing new attacks on Huthis.
According to the World Health Organization, during activation of the conflict in Yemen has killed more than 560 people, nearly 2,000 were injured, about 100 thousand people were forced to flee their homes.
Recall that in the country escalated the confrontation between the forces supporting President Abd Rabbo Mansour Hadi, and militants of Al-Houthi movement, which supposedly supported by Iran.
The unstable situation in Yemen is stored for several months.
In late January, the rebels of the Houthi Shiite movement captured the presidential palace in the capital Sana'a, made the dissolution of parliament and President Abd Rabbo put Mansur Hadi under house arrest, forcing him to resign.
Hadi escaped to the city of Aden in southern Yemen, where he withdrew his resignation and declared the city the new capital of the country.