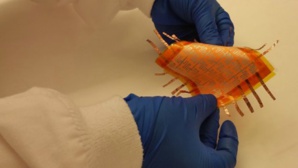 A study published in the "Advanced Materials Technologies" show how taking simple household materials, the scientists have come up with an artificial skin that is paper based and flexible in nature. Moreover, the same paper is able to sense pressure, feel temperature, detect humidity, and react to proximity or PH level and to the movement of air.
It is a "multi-sensor" artificial skin which is capable of responding to "external stimuli", whereby generating a potential of being used in the fields of "medicine and robotics", informs the researchers, while Digitallook adds:
"The paper-based skin is layered onto a post-it note, with paper, aluminium foil, lint-free wipes, and pencil lines acting as sensing components".
In fact, the paper is fabricated out of "recyclable materials" that exhibit "a large number of sensory functions" which is environmental and cost friendly. Saudi Arabia based King Abdullah University of Science and Technology's professor, Muhammad Mustafa Hussain said:
"Democratisation of electronics will be key in the future for its continued growth".
Hussain is the senior research author, who also adds:
"In that regard, a skin-type sensory platform made with recyclable materials only demonstrates the power of human imagination. This is the first time a singular platform shows multi-sensory functionalities close to that of natural skin.
Additionally, they are being read or monitored simultaneously like our own skin".
References:
http://www.dnaindia.com/