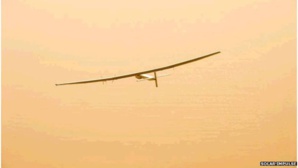 Finally, after a wait of nearly two months, the solar impulse has finally soared up to the Japanese sky to take a giant leap across the Pacific. The next destination of the solar impulse is scheduled in Hawaii, whereby it is expected to reach the island safely.

The solar impulse team had to perform "an unscheduled landing in Japan" due to weather constraints which prevented the aircraft to proceed further. The developing depression over the Pacific delayed the journey by almost a month. The official solar impulses website informs:
"Andre Borschberg has passed the point of no return and must now see this 5 days 5 nights flight through to the end".

Consequently, the option of returning to Japan, in case of sudden developments in weather forecasts, is no more available. The pilot has to but take a 'leap of faith' over the Pacific.

The "first attempt" of the solar impulse to cross the Pacific Ocean didn't come to fruition, as the unforeseen weather forecast change "forced an unscheduled landing". However, a second attempt was made sometimes at the end of last month, which was also called off "at the last moment" owing to "concerns about" the weather conditions.

The success of the pilots will be recorded in the history of aviation as "the longest-duration solo flight". Moreover, it will also be an achievement for a solar powered craft to fly a "furthest distance" ever. A successful journey over the Pacific will mark the "the eighth leg" in the journey of Solar impulse around the globe; although the eight leg has been a difficult task, so far, and has met with "weeks of delays".

The journey to Hawaii was initially to begin from the Chinese city of Nanjing, which was to be conducted by Andre Borschberg, the co-founder of the "Solar Impulse" who is also in a post of pilot in Switzerland. The craft, wherein the journey continues is an "experimental single-seater craft".

Unfortunately, the ground support team along with the Swiss pilot was put on a hold for weeks as "right flying conditions" were not available. Eventually, Borschberg started on the historical flying venture on the 31st May 2015. However, the mission was put on a halt, being subject to further deterioration due to bad weather conditions.

Furthermore, the rains of Nagoya added more 'delay' period; although meteorologists show confidence about arriving at "a weather window" needed to complete the five day journey across the waters of the Pacific.

The experimental solar craft contains "17000" photovoltaic cells which absorbs sun's rays in order to fuel the flight. However, in case the cells fail to "soak up enough" sunlight, while the flight is over the Pacific Ocean, it is said that
"...the pilot could be forced to bail out."

In fact, there is nothing to fear, as Mr. Borschberg has undergone evacuation training in emergency situations. In spite of the solar impulse team hoping otherwise, Borschberg is equipped with "enough supplies for several days" which will help him to survive for the period of time his team takes to locate him in the vast Pacific waters, in case he is forced to "bail out".

The cockpit is like a "telephone booth" wherein Mr. Borschberg is spending his flight durations all "strapped into his seat". In the course of the journey, he can have only "20-minute cat-naps", whereby he plans on using meditation and yoga to make the journey more pleasant. The success of the eight leg of the journey will determine the continuance of the journey across the world. However, Bertrand Piccard is to take Borschberg's place once he lands safely in Hawaii.



References:
http://www.bbc.com/news/science-environment-33244912