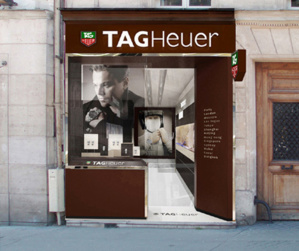 The Swiss company will design and manufacture watches that will run on SoC platform of Intel and Android Wear of Google, which also developed the software, according to Bloomberg. Product launch is scheduled for late 2015. The price will be announced later.

Combining beauty and technology, Swiss watches impressed many generations of people, including us at Google. Therefore, we are very pleased to be working with TAG Heuer and Intel to offer a really bright and innovative solution on the market of exclusive products. With joint efforts and using the platform Android Wear, we can create a more functional, attractive, and "smart" watch - said the technical director of Android Wear David Singleton.

Smart watch will not be made in Switzerland. TAG Heuer will rely on their partners in Silicon Valley and on standard international practice of electronics manufacturing, the agency said.

As noted in the statement, the company will create a product that will have an exclusive design and a wide range of features for everyday use. This project is the culmination of innovation, creativity and design of Silicon Valley, California and La Chaux de Fonds, Switzerland.

The initiative of Swiss watch manufacturers and microelectronics developers from Silicon Valley combines technological innovation and watch companies' prestige. Our partnership is a win-win project for all participating companies and reveals great prospects to us, "- said president of LVMH watches production and CEO of TAG Heuer, Jean-Claude Biver.

Swiss already have experience in creating electronic devices. In 2008, TAG Heuer introduced the mobile phone Meridiist, and in 2013 the American sailors from the Oracle Team USA, on the sponsorship agreement, wore electronic bracelets from Swiss manufacturer with features specifically designed for sailing.

As estimated by Strategy Analytics, in 2015, the market of smart watches can achieve 28.1 million units compared to 4.6 million in 2014. It is expected that 55% of the market will take Apple watch.
In recent years, says Bloomberg, a whole series of producers, including Swatch, Breitling, Montblanc and Frederique Constant came on the market. They offer a wide range of products, from the device to send messages to gilded clock fitness tracker.

TAG Heuer is going to compete with electronics manufacturers, including Apple watch with its luxury $ 10 thousand version. The Swiss became the first traditional watchmakers, who decided to join forces with Google. According to Bloomberg, the partnership can become a touchstone for other premium brands from the package LVMH, including Hublot and Zenith. It is expected that the basis of "smart" watches Tag Heuer will be taken from black version of watches Carrera, for which the price starts from $ 2500.