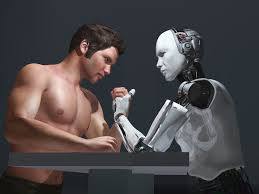 A report published this week assures that humans need not worry about losing their jobs and livelihoods to advancement in technology. The report, studies and prepared by economists at Deloitte say that in the last 50 years, more jobs have been created than lost due to the development and advent of technology such as computers, machines and robots.
The report is part of a growing amount of data and research on the topic of tech's impact on jobs.
The employment records in England and Wales for every decade since 1871 as well as the labour data from 1992 were studied and analysed by the Deloitte economists for preparing the report.
The study conducted by researchers Ian Stewart, Debapratim De and Alex Cole claimed that use of humans in repetitive jobs has shrunk primarily due to the fact that repetition can be handled better and more easily by technology.
The researchers listed the repetitive jobs types that were replaced by technology in the last 15 years. These included:
Footwear and leather working jobs that have declined 82% since 1992
Weavers and knitter jobs reduced by 79%
Metal making and treating process operators' jobs reduced by 70%
Typists and related keyboard occupation opportunity reduced by 57%
Secretaries and related jobs reduced by 52%
Energy plant jobs reduced by 51%
Farm workers' jobs reduced by 50% and
Metal machine setters and setter-operators' job opportunities reduced by 44%.
On the other hand, the report says that there has been an explosion of non-routine jobs.
"Technology is highly complementary to cognitive, non-routine tasks... there is little opportunity to apply technology in non-routine manual tasks, such as those done by care home workers," the research report noted.
Citing the most prominent example, the report says that there has been an increase of 909% in the jobs that are related to nursing and nursing services. The demand for teachers has increased by 580%. All these figures were calculated from and pertain to figures since 1992.
Other notable increases in job demand despite very rapid advancement in technology includes a 365% increase in demand for management consultants and business analysts, 195% increase for I.T. managers, 183% increase in demand for welfare, housing, youth and community workers, 168% increase for care workers and home carers, 156% increase in job opportunities for actors, dancers, entertainment hosts, producers and directors and a 132% demand increase for financial managers.
Though the report did not make any prediction for jobs that would be in demand in the future, the report noted that the jobs that require more social interaction, empathy and creativity will be the ones that would be in-demand.
"Machines will take on more repetitive and laborious tasks, but seem no closer to eliminating the need for human labor than at any time in the past. We believe that jobs will continue to be created, enhanced and destroyed much as they have in the last 150 years," the report concluded.
(Source: http://money.cnn.com & www.businessinsider.com)