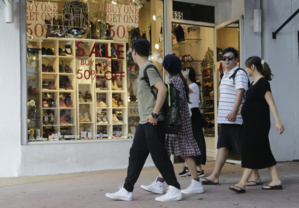 According to a survey conducted by GfK, the confidence of the United Kingdoms' consumers came crumbling down to the "lowest level" in the month of February, marking the worst fall since the month of December 2014, whereby raising concerns in regards to the "economic outlook".
In comparison to 4
th
of January 2016, the "consumer sentiment index" of GfK came down to zero while trumping all the expectations of the analysts' for a dip to "reading of 3". The Helad of Market Dynamics at GfK, Joe Staton stated:
"Despite the positive impact of continued low interest rates and subdued inflation on our day-to-day household budgets, the feeble outlook for growth and a variety of economic uncertainties since the start of the year has depressed our New Year optimism".
Following the "Office for National Statistics" which informed that the economic growth of the United Kingdom in the fourth quarter of 2015 was led by "consumer spending", GfK came out with its survey results. The GDP of UK in the final quarter of 2015 was estimated at "1.9% year-on-year growth and 0.5% quarter-on-quarter growth". Matching the economists' expectations GDP rates were registered while in comparison to the third quarter it increased by two percent annually while on the quarter scale it went up by "0.4%".
The governor of the Bank of England, Mark Carney informed that the central bank is waiting for the economy to pick-up and pledge growth, only then will it raise its interest rates. In the mean time, some analysts think that the consumer sentiment will be influenced by the 23
rd
June's referendum which related to Britain quitting the European Union, whereby instilling fear in the citizens who are anticipating the consequences.
The IHS Global Insight's Chief European & U.K Economist, Howard Archer said:
"February's marked relapse in consumer confidence is obviously worrying, and a concern is that sentiment will slide further over the next few months as uncertainty over the outlook intensifies ahead of the 23 June referendum on UK membership of the European Union".
"This could well cause consumers to be more cautious in their spending and weigh down on growth."
References:
http://www.digitallook.com/