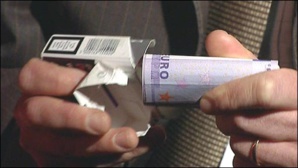 Member of the Executive Board of the European Central Bank Benoit Cœuré said that arguments in favor of the 500 euros bill are "less and less convincing."

"We are actively considering this issue, and will take the decision in the near future. Competent authorities are increasingly suspecting that the banknotes are used for illegal purposes. This is the argument that we cannot ignore, given the importance of combating money laundering and financing of terrorism." - Cœuré said.

The question of the large denominations has been discussed for many years, and a number of bankers and economists are calling for a ban on the 500 euros banknotes ($ 567) in order to combat organized crime and terrorism.

After a senior fellow at Harvard Kennedy School, Peter Sands, published an article on this topic at the beginning of this month, the question attracted attention once again.

Former CEO of Standard Chartered told that the terrorists involved in money laundering and trafficking in human beings, would have much more difficulties with banknotes of smaller denomination in the transport of large amounts of money.

Last year, a woman from Colombia was detained at the Bogota airport. She swallowed 64 capsules each containing five hundred-dollar bills, reported the Financial Times. Two years ago at London's Heathrow airport, the police caught smuggler carrying 40 of 500 euro bills in his underwear. She was sent to Turkey to meet with supporters of LIH.

"Rarely we can see a political proposal that is quite simple to implement on the one hand, but on the other, has a powerful positive impact with very limited shortcomings. Getting rid of high denomination banknotes is one of these solutions" - says Sands.

In addition, he also called to cancel $ 100 bill.

European finance ministers also insist on implementation of new measures to combat financing of terrorism. On Friday, the politicians held a meeting at which they will discussed possibility of abolishing 500 euros banknotes.

French Finance Minister Michel Sapin said that in France, the bill is used "rather for the purpose of unlawful transactions, not to make a purchase."

Some countries have already adopted such measures. Canada got rid of its $1,000 banknotes in 2000, as it was used mainly in criminal dealings, and Singapore liquidated its bill of $10,000 in 2014, in order to combat financial crime.

However, the ECB still insists on necessity of the 500 euro banknotes. In 2012, head of the ECB Mario Draghi said that the high denomination bills carry out "an important role as a store of value and are the latest feature to store assets in the euro area and abroad."

€ 500 banknote is the second largest bill in Big Ten country right after the Swiss banknote in 1000 francs ($ 1029). A number of euro zone countries seek to preserve cash. Last year, the Luxembourg Central Bank issued notes in the amount equivalent to 194% of GDP in 2013, which was much more higher than those in Germany (16%) and France (4%).

Cash for criminals are a convenient means of money laundering, in spite of the rapidly changing face of the underworld and evolving cybercrime. Although using cash is not a crime as such, all criminals use cash at some stage in the process of money laundering.

While the criminal aspect is a key factor for the ECB, prompting him to get rid of large banknotes, there is another factor - negative interest rates. Cash in the bank is an attractive alternative for many. People often find it easier to keep cash in large denominations than in small banknotes.

A third advantage is expected impact on the euro. Foreign exchange strategist at Bank of America Merrill Lynch Athanasios Vamvakidis said that getting rid of the banknotes of 500 euros will weaken the currency, reducing demand for the euro as a store of value.

"We expect that cancellation of notes constituting almost 30% of the total amount of euro in circulation would have the most negative impact on the currency, but everything else remains unchanged," - said the expert.