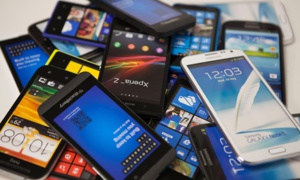 In the year of 2016, the smartphone brands are likely to disappear. According to Reuters, the growing graph of the industry fell below "10 percent this year". The Samsung and Apple are taking away most of the profits, while Chinese upstarts Xiaomi are attracting "first-time buyers".
In the midst of one sided competition, the other brands like Sony and HTC are making loss. Consequently, these companies will soon be forced to quit the market.
According to the IDC data, it was the first time when the industry of smartphone showed a growth rate "at a single-digit". Looking back two year from now, the same industry was booming at a forty percent growth rate. China was once the "largest handset market" of the world that generated demand and drove the growth but this year it has remained "flat".
As per Reuter, this slow growing rate can be pointer to two things:
"First, the market is saturated: existing smartphone owners outnumber first-time buyers. The People's Republic, which accounts for 30 percent of global shipments, has joined North America and Western Europe to become a replacement market where sales are driven by upgrades".
This is in favour to Apple and Samsung who manufacture "premium" handsets. Over the "three months to September, reckons "analysts at Canaccord Genuity", ninety four percent of the overall smarphone market's profit had gone to the Apple's "$600 billion iPhone". On the other hand Samsung maintains the role of the "only big Android phone maker" still in profit.
However, the second indication tells that "first-time buyers in emerging markets will power growth". The IDC estimates show that shipment service of handset to "Middle East and Africa" increased by fifty percent in the year of 2015.
The Chinese companies like Huawei and Xiaomi, managed to reach the "third place in shipments this year". It has just been a fresh start for these companies in "selling budget phones". Moreover, at places, like in India local brands such as Intex and Micromax are giving competition to Samsung.
Furthermore, Reuters writes:
"Those without Apple-level margins or Huawei's scale may not survive. The loss-making HTC is already on life support as its $1.3 billion cash pile dwindles. The launch of the group's $500 iPhone rival is unlikely to be a turning point: analysts expect HTC's market share for next year to stay flat at around 1 percent. Ailing Japanese conglomerates, from Sony to Kyocera, will be under pressure to shut down unprofitable mobile units. Even smartphone pioneer BlackBerry may be forced to give up on hardware if sales of its latest model disappoint. 2016 may be the beginning of the end for many".
References:
http://blogs.reuters.com/