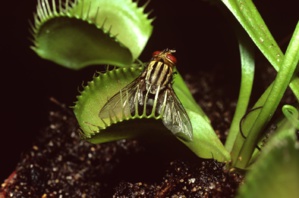 If you keep a Venus flytrap as a pet and dutifully feed it on a daily diet of meat you would expect it to chomp away at the morsels and grow up to be a robust plant. Turns out, you will have to do a little more research before you can get this desired result.
The Venus flytrap have tiny hairs inside its 'jaws', it is these that causes the jaws to snap shut trapping the insect inside which is gradually digested by the enzymes in its digestive system.
As per a
research paper
from the University of Würzburg the amount of times those follicles are triggered relates to not only to its belly but also to how it absorbs nutrients from captured-and-digested prey.
With each successive touch, the response of the plant increases. While two strokes caused its jaws to be snapped shut, additional strokes, which are indicative of a bigger size of the prey, causes the plant to proportionately larger quantities of "prey degrading hydrolases."
Thus the plant is intelligent enough to produce enzyme quantities proportionate to the size of its prey.
Moreover, the plant also produces sodium to increase absorption of nutrients from its food. It controls the quantum of this production and cranks it up if the prey is larger.
The researchers have figured that this is not just a reflex, but a complex response which goes deep into the inner workings of the plants behavior.