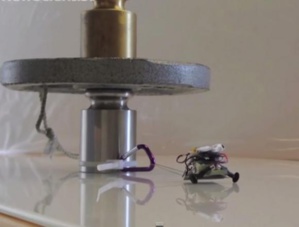 New Scientist
Miniature robots are able to move on the vertical walls thanks to a special glue, marked on their limbs.
Robot, weighing only 9 grams, is able to lift a weight of one kilogram.
Another robot weighs 12 grams can handle the load that weighs two thousand times larger (2.4 kilograms).
Finally, the smallest robot which was creating with use of a microscope, weighs only 20 milligrams, but is able to drag a clip that weighs 500 mg from place to place.
The secret of the enormous power of miniature robots consist in the construction of the feet, created in the likeness of a gecko paws.
Special spikes placed on the feet of robots can be bent at a pressure and thus increase the contact surface.
Moreover, thanks to the special glue, tiny device can move on vertical surfaces.
Clay will keep the robot on the wall, even if it carries a heavy load.
Tracks surveyors, in turn, inspire the mechanism of movement.
When one leg of the robot moves forward, the other remains in place to provide additional support to the load.
As explained by the engineers, to understand how to move their robots, it is enough to imagine two people carrying a sofa up stairs: while one holds the load, the other takes a step up the stairs.
The robot named Stanford in 2006-era StickyBot, weighing only 9 grams, is able to lift a weight of one kilogram.
Another robot is called μTug, the most powerful robot of this company, which weighs only 12 grams and weighs 12 grams; it can cope with the load, which weighs 2,000 times more (2.4 kg).
Finally, the smallest robot in the presented range weighs only 20 milligrams, but is able to drag from place to place a clip that weighs 500 mg.
Developers made an interesting comparison - this is the same thing that a man pulls a blue whale.
The creators claim that their development would be widely used at construction sites for towing heavy loads and carry out rescue operations in emergency and destroyed buildings.
The developers claim that one of the robots could hold a rope ladder that for people to be evacuated from a burning building.
Team of tiny robots-athletes will be shown at the International Conference on Robotics and Automation in Seattle in May 2015.
The researchers believe that the mechanisms that are based on the principles applied in the design of robots can be used in construction, factories, and to create a life-saving devices in extreme situations: for example, to evacuate people from the upper floors in fires and accidents.
David Christensen and Elliott Hawkes - creators of superstrong micro robots Army - once got famous in the scientific community by creating a "suit lizard", allowing to climb smooth vertical walls.
And in fact, in the new study, the researchers used the same adhesive coating, which they plan to commercialize and bring to market in the future.
source: newscientist.com