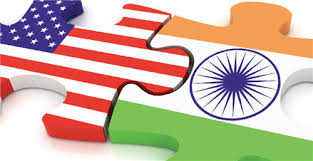 It may not be Russia that the U.S. president sees as America's critical new ally despite all the talk about the mutual admiration between Donald Trump and Vladimir Putin.
The the prime minister of India, Narendra Modi, is one of the first leaders Trump spoke to following his inauguration after the US President scheduled a phone call with Modi in his first few days in office.
Trump and Modi "discussed opportunities to strengthen the partnership between the United States and India in broad areas such as the economy and defense", the White House said in its official statement. However media reports that the conversation was focused on defense.
Under Barack Obama, whose administration saw the world's biggest democracy as a counterbalance to China's rising power, a tightening of relations with India is something that was already accelerating.
"Through successive administrations and strong congressional support, the United States has made tremendous investments to expand its relationship with India over the past several years," said Manpreet Anand, former U.S. deputy assistant secretary in the Bureau of South and Central Asian Affairs.
"The Trump administration has an opportunity to double down on those efforts as the strategic interests of our two countries continue to align," Anand said.
In order to ensure the United States cements some type of influence in that part of the world and to counter China's growing dominance in Asia — which Trump may be inadvertently encouraging, Washington needs India, foreign policy experts say.
Now that Trump has withdrawn from the Trans-Pacific-Partnership, that task is all the more important. U.S. leadership in Asia would have been further buttressed by that free trade bloc, which had the United States at its center and which excluded China. China has immediately begun to step in to fill the void with the TPP off the table.
"Many U.S. strategic thinkers see the rise of India as a natural balancer to
China
as beneficial to the U.S.," said Sasha Riser-Kositsky, Asia analyst at consulting firm Eurasia Group. "Over roughly the last 10 years, U.S. policy has broadly followed this logic, helping strengthen ties with India and offering unprecedented cooperation in terms of civilian nuclear power and co-development and co-production of defense technologies while asking relatively little in exchange."
Some members of India's Hindu majority like Trump's hostile rhetoric toward Muslims. India has suffered many terror attacks within its borders that New Delhi claims are supported by Muslim-majority Pakistan and the country has a large Muslim minority.
The two leaders of the largest democracies in the world discussed "security in the region of South and Central Asia," the White House also said.
India is an attractive destination for investors, said DoubleLine Capital's Jeffrey Gundlach told Barron's over the weekend despite economic headwinds and uncertainty around Trump's foreign policy. Bombay's Sensex stock index is trading about 6 percent below its all-time closing high.
However migration could be one point of contention between Trump and Modi. There are many India technology companies that employ Indians to do work previously done by American workers and many of these companies work for U.S.-based companies.
"They also have a major item that needs to be resolved around IT outsourcing," said M.R. Rangaswami, a software executive and founder of Indiaspora, a U.S.-based community for people of Indian descent.
"The president has stated that jobs be kept in the U.S., while India is the place most Fortune 500 companies have direct IT operations or outsourcing partners. Most H-1B visas" — supposedly temporary passes that give skilled foreign nationals the right to work in the United States — "are used for supplementing the U.S. IT workforce by bringing professionals from India," Rangaswami said.
(Source:www.cnbc.com)