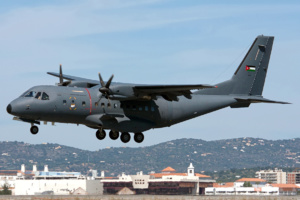 Pedro Aragão - http://www.jetphotos.net/photo/7847319
US companies continue to lead in terms of weapon sales: they accounted for 54.4% of the market. However, in 2013-2014, their sales fell by 4.1%, which is a mirror image of the situation in 2012-2013.

10. L-3 Communications

Country: USA
Sales: $ 9 810 million

L-3 Communications Holdings is an American company that provides command and control communications, intelligence, surveillance and reconnaissance (C3ISR) products and systems, avionics equipment for the sea, training devices and services, instrumentation, space and navigation products.

Its customers are the Ministry of Defense, Department of Homeland Security, US government intelligence agencies, NASA, aerospace contractors, commercial telecommunications and wireless customers.

The company's headquarters is located in the district Murray Hill, New York, USA.

9. Finmeccanica

Country: Italy
Sales: $ 10 540 million

Finmeccanica S.p.A. is one of the largest engineering holdings in Italy. The holding's subdivisions carry out orders in the areas of defense, energy, helicopter, telecommunications and transport.

In February 2013, head of Finmeccanica, Giuseppe Orsi, was arrested on suspicion of bribery to the Indian authorities at the signing of India-Italia supply contracts of Italian helicopters manufactured by Agusta Westland in 2010. According to investigators, the size of bribes amounted to 51 million euros.

The company's largest shareholder - Ministry of Economy and Finances (30.2%).

8. United Technologies Corp.

Country: USA
Sales: $ 13 020 million

United Technologies Corp is one of the largest financial and industrial groups in the United States. Headquarters is located in Hartford, Connecticut.

The company was founded in 1929, when Boeing Airplane Company, Boeing Air Transport, Chance Vought, Hamilton Standard, Pratt & Whitney, Sikorsky Aircraft merged, having creating a company United Aircraft and Transport Corporation.

In 1934, according to the Air Mail Act, the company was divided into three parts -Boeing, United Aircraft and United Airlines. In 1975, United Aircraft was renamed the United Technologies.

International presence - business in 180 countries and more than 4 thousand representatives in seventy countries. 206,700 employees works for UTC.

The UTC consists of the following companies:

• Carrier Corporation - one of the leading companies in the world for the production of heating, ventilation, air conditioning, refrigeration.

• Hamilton Sundstrand - defense industry company, develops and manufactures aerospace and industrial systems.

• Otis - the world's largest manufacturer of elevators, escalators and moving walkways.

• Pratt & Whitney - manufacturer of aircraft engines, gas turbines and others.

• Sikorsky Aircraft Corporation - the world leader in design and manufacture of helicopters for commercial, industrial and military needs.

• UTC Fire & Security - a company producing systems for fire protection, security products and services.

• UTC Power - a company producing fuel cells and energy systems.

7. Airbus Group

Country: Trans-European company
Sales: $ 14 490 million

Airbus Group is the Europe's largest aerospace company.

Officially registered in Amsterdam, the company has headquarters located in Paris (France) and in Ottobrunn (south of Munich in Germany).

The company was founded July 10, 2000, through merger of Germany's Daimler-Benz Aerospace AG, the French Aerospatiale-Matra and the Spanish CASA.

Main shareholders: the French government and the French company Lagardere - 27,53% shares, Daimler AG - 22,52%, Spanish state holding company SEPI - 5,46%, Russian "VEB" - 5.02%. Remaining shares are distributed between management, investment funds and listed on European stock exchanges

6. General Dynamics

Country: USA
Sales: $ 18 600 million

General Dynamics Corporation is the American company, one of the world's largest producers of military and aerospace technology.

Headquarters in the suburbs of the city of Washington Falls Church.

The company operates in four main business segments: marine systems, combat systems, information systems and technology, aerospace technology.

In addition to the F-16 aircraft and submarines, the company developed the tank M1 Abrams, an armored personnel carrier Piranha and others. Currently General Dynamics is the main contractor for one of the two projects for coastal zone warships construction - LCS .

Powerful information systems used for managing the US armed forces play a significant role in the company's business development and production. These include developments such as control system of intercontinental missiles (MX), system of telecommunication surveillance and reconnaissance satellite data (SAPS), modular systems broadcast, recognition and signal processing (MASP), information management system (GDMX) and others.

In addition, General Dynamics has long worked in cooperation with NASA for creation, maintenance and improvement of the automated launch system, monitoring and correction of the orbital satellites (TDRSS).

5. Northrop Grumman

Country: USA
Sales: $ 19 660 million

Northrop Grumman Corporation (NYSE: NOC) - the American military-industrial company working in the field of electronics and information technology, aerospace and shipbuilding. Founded in 1994 through the merger of Northrop Corporation and Grumman Corporation.

The company is a leading developer, manufacturer and integrator of combat and reconnaissance aircraft, defense systems, airspace control, ship engines, particularly accurate weapons and a variety of military and commercial aircraft.

The corporation is the official US Air Force contractor by the Executive Order on the "stealth" - B-2 bombers, heavy long-range bombers with reduced visibility, capable of operating in any range of altitudes and at any enemy opposition.

4. Raytheon

Country: USA
Sales: $ 21 370 million

Raytheon is an American company, a major supplier of the US military. The company gains more than 90% of the revenues from defense contracts. Developer of SAM "Patriot", the manufacturer of the cruise missile "Tomahawk".

Raytheon Corporation is one of the largest military-industrial associations in the world.

Raytheon is the fifth largest defense contractors and stands as America's leading designer and manufacturer of missiles and radio systems, including air defense systems. The company considers itself the world's largest manufacturer of guided missiles.

Over the past five years, annual sales of Raytheon rose more than 25%. This increase is due primarily to enhanced US military spending over the last decade, growth of orders of the Pentagon, as well as steadily rising export sales.

3. BAE Systems

Country: United Kingdom
Sales: $ 25 730 million

BAE Systems plc is the UK defense company, involved in weapons, information security, aerospace.

Headquartered in Farnborough, Hampshire, England. Workwith foreign customers, particularly in North America, is conducted through its subsidiary BAE Systems Inc.

2. Boeing

Country: USA
Sales: $ 28 300 million

The Boeing Company is one of the world's largest manufacturers of aerospace and defense technology. Headquartered in Chicago (Illinois, USA).

The corporation consists of two main operating units: Boeing Commercial Airplanes (civil production) and Boeing Integrated Defense Systems (production of military and space technology).

In addition, the corporation includes Boeing Capital Corporation (financing projects), Shared Services Group (infrastructure support) and Boeing Engineering, Operations & Technology (engineering, procurement and implementation of innovative technologies and processes).

Boeing produces a wide range of aerospace military (including helicopters), conducts large-scale space programs (such as spacecraft CST-100).

Structure of Boeing is divided on two major units: Boeing Commercial Airplanes, engaged in the construction of civil aircraft, and Integrated Defense Systems, performing space and military programs.

1. Lockheed Martin

Country: USA
Sales: $ 37 470 million

Lockheed Martin Corporation is an American company specializing in aviation, aerospace, shipbuilding, automation of postal services and airport logistics. Headquartered in Bethesda (Maryland), United States.

The company is the world's largest military enterprises. 95% of revenues is received from orders of the US Department of Defense and other agencies and departments of the US government, as well as foreign customers.

Lockheed Martin's business is divided into four key segments: aeronautics, electronic systems, information systems and space systems.

The number of employees worldwide is 130 thousand people.