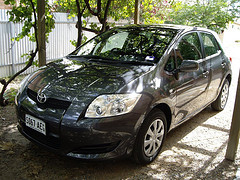 Japanese car maker Toyota will recall yet another record number of vehicles, this time at around 1.37 million, as part of the Takata airbag fault.

According to a Reuters report, Toyota will recall yet another tranche of 1.37 million vehicles including 2003 to 2007 Corolla and Corolla Matrix, 2005 to 2006 Tundra, 2005 to 2007 Sequoia and 2003 to 2007 Lexus SC430. Combining the past recalls made public by Toyota, the company will be now recalling 2.9 million vehicles in the US itself. Honda has also announced a new recall of 1.39 million Accord and Civic sedan cars for the same fault.

According to the report, Toyota itself has identified 24 incidents of improper deployments of Takata airbags, with eight reported case of injuries, in its vehicles worldwide.

The Takata bag recall has left automakers, already in the cusp of increased production costs, in a dizzy. About 17 million of the 33.8 million vehicles with the faulty airbags had already been part of recalls by major automakers. The rest of the vehicles are yet to be screened. According to the car companies, consumers can look up their car's 17 digit VIN to know whether their car is part of the auto recall.

Investigations showed the Takata airbag inflators were not properly sealed and so could be damaged by moisture. The automobile companies have denied that there were any accidents or injuries reported due to these faulty airbags and the recall will only be a precautionary measure. Yet, the issue has led to the biggest recall in automobile industry. GM, Subaru, Honda, Fiat Chrysler, BMW, Ford, Mitsubishi, Daimler Trucks, Mazda, Nissan, and Toyota are amongst the affected car makers.

US-based car maker Ford Motor Company also announced a recall of 390,000 vehicles this year with a possible door latch glitch. This was the third recall this year for Ford which recalled 205,000 vehicles in January and 213,000 vehicles in March.

U.S. safety regulator the National Highway Traffic Safety Administration has also said it would soon announce "significant new steps" related to accelerating Takata recalls. The company faces multiple class action lawsuits in the United States and Canada as well as a U.S. criminal investigation and a regulatory probe. The Takata-linked has surpassed the largest US recall of 21 million vehicles by Ford Motor Co in the 1980s for a parking gear problem.