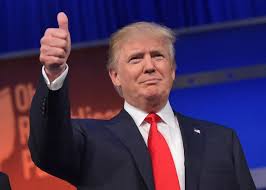 As exuberance shot through markets and reversed initial dives in reaction to Donald Trump's U.S. presidential victory, European stocks rose on Thursday following extraordinary gains in Asia and the United States.
Investors set aside for the moment longer-term worries about whether he will slap punitive tariffs on Chinese and Mexican exports, risking a global trade war and focused on Trump's priorities - including tax cuts and higher infrastructure and defense spending, along with bank deregulation.
"Safe haven" government bonds sold off after Trump suggested he would spend billions on infrastructure and European stocks hit a two-week high, with the pan-European STOXX 600 index up 1.3 percent in early dealings.
After the Republican candidate's triumph, this marked an abrupt change from the sharp recoil on markets on Wednesday.
Investors are of the view that after Trump takes over in January, he will ditch the budget austerity policies that Western governments have pursued since the 2008 global financial crisis.
"Trump's speech following the victory was hugely influential in yesterday's sudden U-turn, as he focused more on unity and the need to spend to get the economy growing again. These policies combined with his desire to deregulate and lower taxes are all very market-friendly," said Craig Erlam, senior market analyst at OANDA.
"The stance he takes on trade will likely determine how vulnerable the markets are, but in reality these are very long-term policies and for now, markets are more focused on the prospect of lower taxes, fiscal stimulus and less regulation."
The Nikkei jumped 7 percent at one point after sinking 5 percent on Wednesday in a remarkable session for Japanese shares.
There were more modest gains made in Europe, where markets had already started to recover on Wednesday.
Wednesday's sharp rises in U.S. Treasury yields led the moves. In its sharpest rise in more than five years, the 30-year Treasury bond yield gained almost 25 basis points in its sharpest rise. The 2 percent mark was breached for the first time since January as yields on the 10-year note climbed 21 basis points.
With the region's benchmark German 10-year bonds up 5 basis points to 0.23 percent, the highest level since May, high-rated euro zone bond yields - which had sunk early Wednesday - rose sharply on Thursday.
A debate about the austerity consensus that has prevailed across most of the developed world since the financial crisis have been sharpened by Trump's victory and opening comments.
The theory of whether central banks' cuts in interest rates to ultra-low levels and money printing should be replaced by budget measures to boost the world economy would be put to test if his actions match his rhetoric and it seems likely that Trump's administration will conduct the test.
"It looks like Trump will aim for a more fiscally accommodative policy at a time when they seems to be a shift in major economies towards fiscal policies," said Investec economist Philip Shaw.
"The big unknown is how the rest of the Republican party to react to this, as there are many fiscal hawks among them."
(Suorce:www.reuters.com)